Sometimes you need something to be utterly, totally, irredeemably black. Not just a little bit black, not just really really really dark blue, but as black as it is possible to get. It might be to trap light in a camera or a telescope, for artistic purposes, or even to make your warplane a more difficult target for enemy missiles. Either way, we're here to help, not to judge. So what are your options?
Well, first of all, there's the much-lauded Vantablack. The name itself is a clue as to its origin – Vertically Aligned Nano Tube Arrays. It works by coating an object with a forest of carbon nanotubes in a complicated vacuum deposition process. When light hits the surface, some of it is absorbed by the nanotubes, and any that is reflected tends to be absorbed by neighbouring nanotubes rather than escaping the surface coating of the object.
Like a Void in the Universe
Vantablack has the current crown for being the blackest black currently available, absorbing 99.965% of visible light. However, before you get too excited, it does have some drawbacks. In its original form, it has to be grown on materials at temperatures of 400 °C in laboratory conditions. This prevents its application on materials with a lower melting point. It does also come in a spraycan format, requiring only 100 °C to cure, however. But perhaps the biggest pitfall is that for the vast majority of users, it simply isn't available.
The sad story of Vantablack is that, outside of industrial and military applications, it's not purchasable by the general public. An artist by the name Anish Kapoor secured exclusive artistic rights to the material from the manufacturer, Surrey Nanosystems, leading to a feud of amusing proportions. We'd love to see a DIY method to replicate this coating, but thus far, the technical hurdles are yet to be overcome by the home chemist. This means that short of an extreme case of identity theft, you might find you need to look elsewhere.
The Offbrands: Singularity Black and Aeroglaze Z306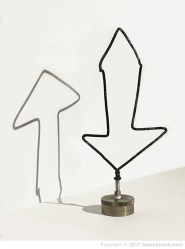 Coming in a close second is Singularity Black, by Nanolab. This consists of carbon nanotubes in a polymer binder which breaks down upon exposure to temperatures above 300 °C. Absorbing up to 98.5% of visible light and with similarly strong performance in IR, it's perhaps the most high-performing alternative available. Application isn't easy and is somewhat hazardous, though [Jason Chase] has shared the results of some experiments online. Samples of Singularity Black can be purchased readily online.
Another option is Aeroglaze Z306, used by NASA as a coating behind space-based imaging sensors. At 97% reflectivity, it's very black, but doesn't quite stack up against the nanotube-based Vantablack. Capable of being applied between 13-35 °C, it's a tad easier to use, but according to the datasheet, once again not available to the average consumer.
Unfortunately, with all the above coatings, there are a lot of pitfalls. Rigorous requirements during the application process and limited robustness can cause problems for a lot of projects. Price is also a factor.
Very Black Paint
If you're looking for the darkest black you can get without leaving the comfortable, familiar realm of things that can generally be considered "paint", never fear — Stuart Semple's Black 2.0 is the answer. Estimated to absorb between 95-96% of visible light, it's a simple acrylic paint that's been absolutely loaded with pigment, which means application is as easy as brushing it on and letting it dry, all at room temperature.
It's not quite weatherproof (though a coating is being developed!) but is more than usable for a great many applications that have to exist in the real world. Best of all, it's affordable and available to everyone — except Anish Kapoor.
The field of black is one of constant change and furious development, and we can't wait to see comes next. For now, there's plenty out on the market to choose from, and we've thrown some videos in below to help you decide what works best for you. That said, we're a bit sad that we can't find any hacker-friendly solutions for producing a Vantablack-like substance (we've seen a lot of other carbon nanotube uses in the home lab).
Whether it's cutting edge paints or a way to brew up your own nanotubes at home, we want to know about it. If you've got a killer app for the blackest substance ever produced, let us know in the comments.