Maybe you are familiar with the op-amp as an extremely versatile component, and you know how to quickly construct a huge variety of circuits with one. Maybe you even have a favorite op-amp or two for different applications, covering many possible niches. Standard circuits such as an inverting amplifier are your bread and butter, and the formula gain=-Rf/Ri is tattooed on your forearm.
But you can know how to use op-amps without really knowing how they work. Have you ever peered under the hood of an op-amp to find out what's going on in there? Would you like to? Let's take a simple device and examine it, piece by piece.
The First IC Op-amp
The Fairchild μA702 was the first integrated circuit op-amp, a then-revolutionary component designed by Bob Widlar and first brought to market in 1964. Though it was long-ago deleted from semiconductor catalogues it has the advantage of an extremely simple internal circuit, one that can be easily explained in an article such as this one.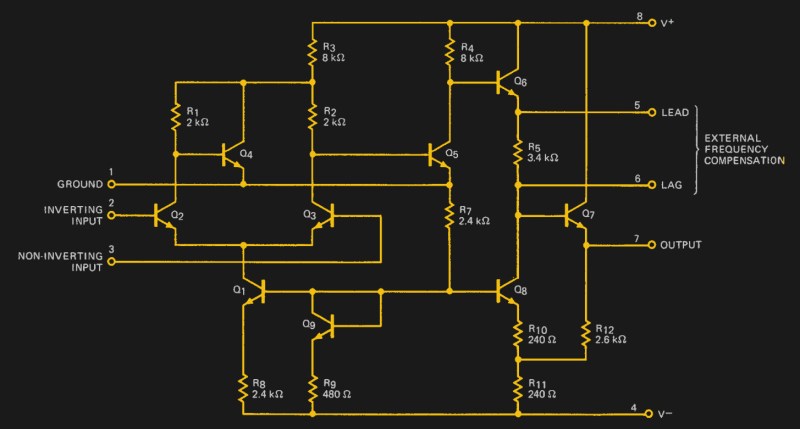 Even with only nine transistors, the μA702 circuit is not quite the simplest possible op-amp circuit, as it contains a few of Bob Widlar's tricks to improve performance. It can however be neatly divided into two sections, a differential amplifier formed by Q2 through Q4, and a class-A output stage formed by Q5 through Q7.
Long Tailed Pair
The differential amplifier circuit (also sometimes referred to as a long tailed pair) here formed by Q2 and Q3 is the signature of an op-amp, and all integrated circuit op-amps will incorporate one in some form or another. It is a differential amplifier, which is to say that its output on the collector of Q3 depends on the difference between the voltages on the two inputs rather than their levels as such.
Simple long-tailed pairs had a long history prior to the advent of integrated circuits, starting in the 1930s with tube circuits and being recreated with transistors as those devices were invented. They were used as fast switches in some of the first electronic computers as well as finding their way into instrumentation amplifiers, but with only resistors in their collector and emitter circuits they suffered from both low gain and poor rejection of common mode signals, which is to say that they would also respond with an output when the voltages on their two inputs moved in tandem.
The Rest
Later differential amplifier circuits replaced these resistors with current mirrors, and the circuit we see here is at an interesting half-way-house point in design. The emitter resistor has been replaced by a current mirror in Q1 (which with Q8 and Q9 in particular forms the famous Widlar current mirror, a clever design employed in the emitter circuits to replace high value resistors that would have been difficult to fabricate on-chip), while the collector resistors survive.
Q4 however represents that design half-way-house. It isn't the current mirror you'd find in a later op-amp, but it is an extremely clever addition to the classic long-tailed pair that solves a problem inherent to such circuits, that they possess half the gain of a single-ended amplifier. If you look upon it as a simple common-emitter amplifier, it amplifies the voltage change at the collector of Q2 through its base to its emitter at the top of R1 and R2, which in turn has an effect on the voltage on Q3's collector, thus also transferring some of the gain from Q2 to the output at the collector of Q3.
The output stage starts with Q5 and Q6 which are simply gain stages, but then has the problem that the emitter of Q6 is at a consequently higher voltage. Thus R5 is a voltage dropper to bring down the voltage to that required for the base of Q7. This final signal transistor is an emitter follower feeding the output, while Q8 in its base circuit is part of the same current mirror as Q1 and Q9.
So that in a few paragraphs is a description of a simple op-amp. It is by no means a good op-amp by the standards on any era but 1964, as  does not have a very high gain, has no short-circuit protection, and requires an external capacitor for frequency compensation. The op-amps you probably use will have decades of development within them over this 1964 curiosity, but the μA702 contains the basic building blocks you will find in any op-amp, and thus makes a handy vehicle for op-amp learning.
Metal can sawn open image: Dub [CC0].