It's been a few years since we first started hearing about "tools of the future changing the way we work" but this astounding whole-room floor inlay might be the best argument for them yet.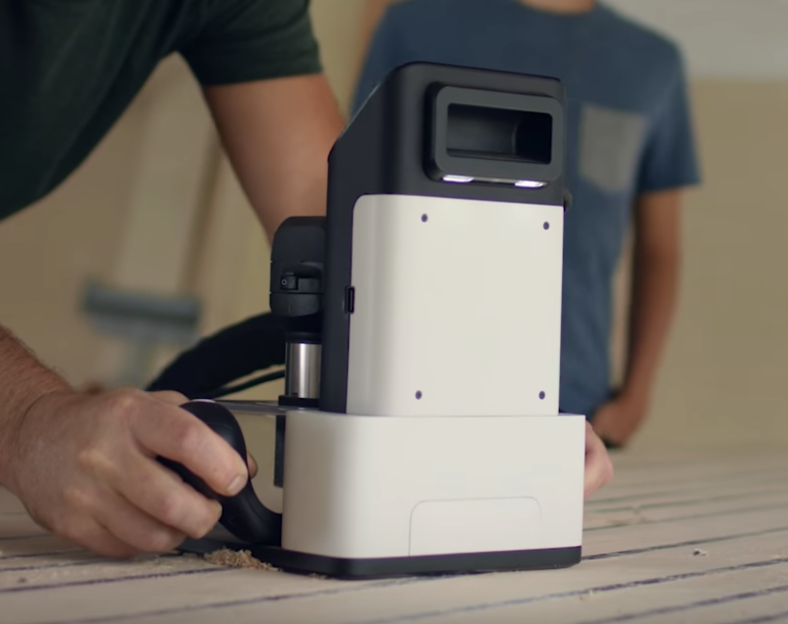 A couple of years ago we wrote a hands-on preview of a unique tool called the Shaper Origin. If a milling machine is classically defined as having a stationary tool head with moving stock, the Origin is the reverse. To use an Origin the user adheres specially marked tape to the stock material, then holds the origin down and moves it much like a hand router.
The Origin has a camera which tracks the fiducial patterns on the tape, allowing it to know its precise position, even across an entire room. The operator sees a picture on the screen of the tool that guides them with superimposed lines, while the tool head makes its own precision adjustments to perfectly cut the design in the X, Y, and Z.
But what do you use a tool like this for? Cutting boards, small tables, and toy blocks are fine examples but don't highlight any unique features of the tool. Many could just as easily be made using a ShopBot, X-Carve, Carvey, or any of their ilk. What you can't do with any of those tools (or really anything besides manual labor, endless patience, and master skill) is inlay an entire floor in situ.
[Mark Scheller] (eight time winner of Wood Floor of the Year awards) used an Origin to cut a curvaceous 22 foot long rendition of the first 9 bars of Handel's Passacaglia into the floor of a lucky homeowner's music room. Without decades of practice, it's difficult to imagine doing this any way besides with a Shaper Origin. You can't put an entire room into a CNC router. The individual floorboards could be cut, but that would be tedious and increasingly difficult as the room gets larger. With the Origin it seems almost trivial. Do the design, place the marking tape, and cut. The same model is used to cut the inlays for a perfect fit. This is an incredible example of a unique use for this unusual tool!