We've all done it: after happening across a vintage piece of equipment and bounding to the test bench, eager to see if it works, it gets plugged in, the power switch flipped, but… nothing. [Mr Carlson] explains why this is such a bad idea, and accompanies it with more key knowledge for a successful restoration – this time revitalising a tiny oscilloscope from the 1930s.
Resisting the temptation to immediately power on old equipment is often essential to any hope of seeing it work again. [Mr Carlson] explains why you should ensure any degraded components are fixed or replaced before flipping the switch, knowing that a shorted/leaking capacitor is more than likely to damage other components if power is applied.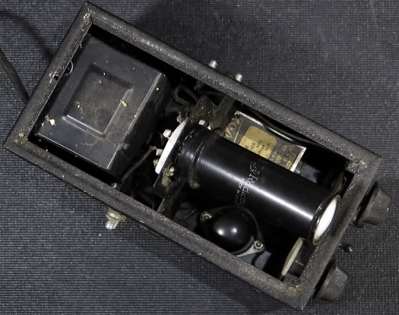 The oscilloscope he is restoring is a beautiful find. Originally used by radio operators to monitor the audio they were transmitting, it features a one inch CRT and tube rectification, in a tight form factor.
[Mr Carlson] uses his capacitor leakage tester to determine if the main filter capacitor needs replacing – it does, no surprises there – as well as confirming the presence of capacitors potted into the power transformer itself. These have the potential to not only derail the restoration, but also cause a safety hazard through leakage to the chassis.
After replacing and rewiring everything that's relevant, the scope is hooked up to an isolation transformer, and it works first time – showing the value of a full investigation before power-up. [Mr Carlson] quips, "It really doesn't have a choice; when it's on this bench, it's going to work again", a quote which will no doubt resonate with Hackaday readers.
[Mr Carlson] promises to integrate the scope into a new piece of test equipment in the near future, but in the meantime you can read about his soldering station VFD mod, or his walk-in AM radio transmitter.