Sometimes the best way to get a hacker to do something is to tell them that they shouldn't, or even better can't, do it. Nothing inspires the inquisitive mind quite like the idea that they are heading down the road less traveled, if for nothing else to say that they did it. A thrown gauntlet and caffeine is often all that stands between the possible and the impossible.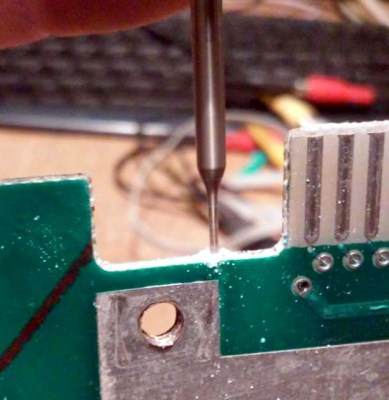 So when [Drygol] heard a friend comment he had an old Atari 800 XL that was such poor shape it couldn't be repaired, he took on the challenge of restoring the machine sight unseen. Luckily for us, his pride kept him from backing down when he saw the twisted and dirty mess of a computer in person. He's started documenting the process on his blog, and while this is only the first phase of the restoration, the work he's done already is impressive enough that we think you'll want to follow him along on his quest.
There's no word on what happened to this miserable looking Atari, but we wouldn't be surprised if it was run over by a truck. The board was cracked and twisted, with some components missing entirely. The first step in this impossible restoration was straightening the PCB, which [Drygol] did by clamping it to some aluminum bar stock and heating the whole board up to 40C (104F) for a few days. Once the got most of the bend out, he used a small drill bit to put holes in the PCB laminate and inject epoxy to add some strength. It's an interesting technique, and the results seem to speak for themselves.
Once the board was straight, he went through replacing blown passive components and broken chip sockets. All the ICs were pulled and treated to an isopropyl alcohol and acetone bath in an ultrasonic cleaner to get them looking like new again. The CPU was cooked and needed to get swapped out, but otherwise it was smooth sailing, and before long he had the machine booted up. While most would have been satisfied to just get this far, [Drygol] considers this to be the easy part.
He next straightened out the metal shielding with a mallet, sanded it down, and sprayed it with a new zinc coating. The plastic around the keyboard and the metal trim pieces were also removed, cleaned, and refinished where necessary. Rather than going for perfection, [Drygol] intentionally left some issues so the machine didn't look 100% pristine. It's supposed to be a functional computer, not a museum piece behind glass.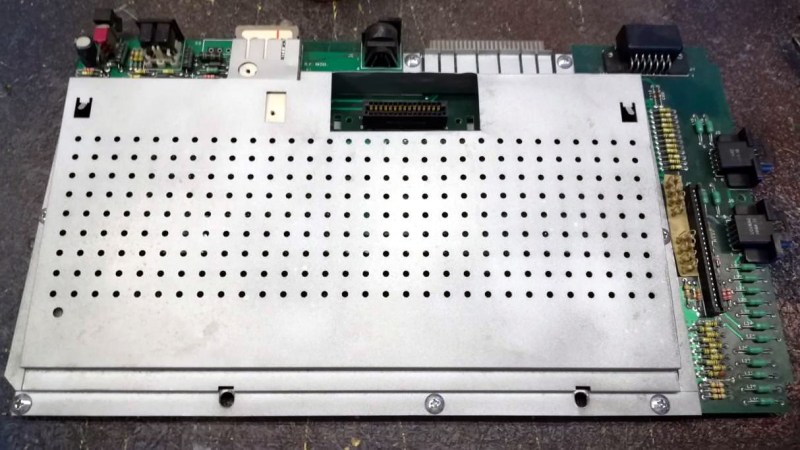 We'll have to wait until the next entry in this series to see how he repairs the absolutely devastated case. Any rational person would just use a case from a donor machine, but we've got a feeling [Drygol] might have something a little more impressive in mind.
In the meantime we've got plenty of incredible restorations to keep you occupied, from this sunken VIC-20 to a Pi-packing Osborne.