If you want to have your part designs fabricated, you're going to need to provide the manufacturer with a technical drawing. Yes, 3D printers and many modern machine tools rely on toolpaths created from 3D models. But, there is a good chance the manufacturer will be recreating the 3D model in their own system, instead of using the one you provided. Or, they may use traditional manual machining and not touch a 3D model at all. More importantly, the technical drawing gives them vital information on how closely they need to adhere to your dimensions in order for you to accept the parts.
On a technical drawing, the dimension that you want is called the nominal. But, no manufacturing is ever perfect, so you have to allow some wiggle room in what you'll accept. That wiggle room is called tolerance. Maybe your part could be a little longer than specified and it wouldn't affect the functionality. Maybe it could be a little shorter—or either. Specifying a tolerance is necessary, because it tells the manufacturer exactly how much wiggle room you're giving them.
But, tolerances can introduce unforeseen consequences if you're not careful. The wiggle room provided by tolerances is absolutely necessary, but if you don't use them properly you can easily end up with unusable parts, even if the manufacturer followed your instructions to the letter. That usually happens because you have multiple tolerances being added together, which is called tolerance stacking.
Compounding Problems

Take a look at the dimensions of the part shown above, can you see the problem? At first glance, you might assert that this tells the manufacturer that the right-most hole can be between 189.90 and 190.10 mm from the left edge of the part. In reality, this actually tells them that it can be anything from 189.50 to 190.50 mm. That's because each dimension is based on the feature before it, which is flexible by 1/10th of a millimeter in either direction. That compounds with each new feature, and the tolerances stack to eventually end up with a lot more wiggle than you likely intended.
Now, it's entirely possible that a total potential variation of 1mm may not make your part unusable. But, even if that's the case, this is still bad practice because it's unclear if that is your intention or not. The entire purpose of the drafting discipline is to remove ambiguity when communicating a part design, and tolerance stacking is very ambiguous. If your right-most hole can have a 0.50mm tolerance in both directions, that should be explicitly stated.
Using Ordinate Dimensions
How do you definitively specify that without stacking your tolerances? In this example, the simplest solution is to use ordinate dimensions, which all reference a single solid origin point. The edges of the part are hard edges, and are likely what you want the interior features to be measured from. Therefore, you can use ordinate dimensions, like below, from the left or right edge so that every hole has a non-flexible reference and avoiding tolerance stacking.

Unfortunately, ordinate dimensions won't work in all situations. For instance, the part below has features that are arranged radially. The dimensions—and therefore tolerances—are in degrees, not a distance like with millimeters. But, this is still a case of tolerance stacking, and the first and last holes could end up being anywhere from 132 to 138 degrees apart.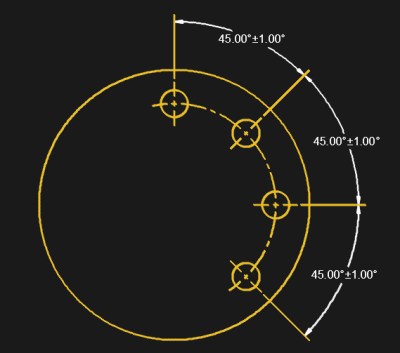 In that situation, the prudent solution would be to base each dimension off of a single geometric reference point, like the top dead center. So, the second hole would be 45°, the third would be 90°, and the fourth would be 135°. But, once again, that's only a solution to another specific example; what you really need is a firm understanding of the problem, and to use critical thinking to recognize it and solve it in your own technical drawings.
Don't Make Them Guess
Tolerance stacking happens when a feature's placement is measured from another feature that has a position that could change slightly. In some cases, you may want that. In the example above, it's possible that, in your design, the third and fourth holes being 45° apart is more important than their position relative to the first hole, or the part in general. You're the only one who knows what's necessary for your part to function properly, and it's the manufacturer's job to simply follow your technical drawing as closely as possible.
You always need to keep that concept in mind as you're drafting your technical drawings. Ask yourself how much wiggle room you're willing to give the manufacturer. But, at the same time, ask yourself what that wiggle room is based off of. Maybe a particular feature needs to fall within a specific tolerance from the edge of the part—or maybe it's more critical that it be located precisely in relation to a neighboring feature. Only you know.
The purpose of a technical drawing is to tell the manufacturer exactly how to make your part, and to do so without any potential confusion. If they follow your drawing to the letter, you can't then reject a delivery of 1,000 parts because they didn't correctly guess your intent. In most cases, the machinists won't know or care how your design actually works, they only care about how precisely they can adhere to your drawing. So, it's up to you to fully understand what your drawing is telling them, and how to avoid problems like tolerance stacking.