A Tile is a small Bluetooth device which you can put on your keychain, for example, so that you can find your keys using an app on your phone. Each Tile's battery life expectancy is one year and after that year you're expected to trade it in at a discount for a new one. Right away your hacker senses are tingling and you know what's coming.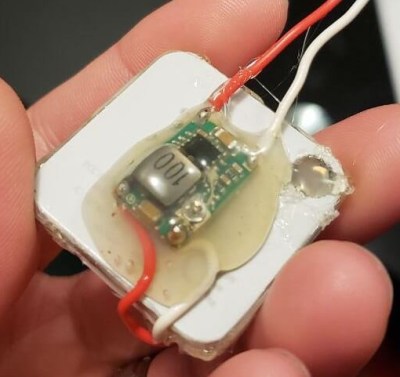 [Luis Rodriguez] had switched to Samsung SmartThings and had accumulated box of these Tiles with dead batteries. So he decided a fun project would be to put a Tile in his wife's car to track it. Given that it's using Bluetooth, the range isn't great for car tracking, but the Tile's app can network with other user's apps to widen the search area.
Since the Tile's battery was dead, he cracked it open and soldered wires to its power terminals. He then found a handy 12 volt source in the car and added a DC to DC buck converter to step the voltage down to the Tile's 3 volts. Finding a home for the hacked tracker was no problem for [Luis]. He was already using an ODB-II dongle for a dash cam so he tapped into the 12 V rail on that.
You'll be surprised what you can find by hacking these small tracking devices. Here's an example of hacking of a fitness tracker with all sorts of goodies inside.
Our thanks to [Maave] for tipping us off about this hack.