Many of us have aspirations of owning a tube amp. Regardless of the debate on whether or not tube audio is nicer to listen to, or even if you can hear the difference at all, they're gorgeous to look at. However, the price of buying one to find out if it floats your boat is often too high to justify a purchase.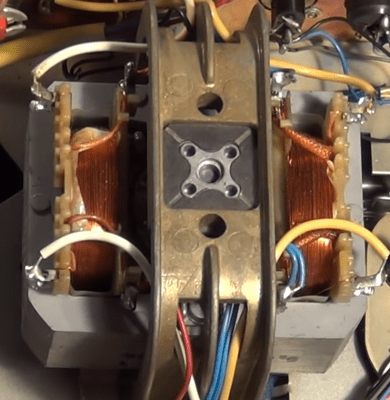 [The Post Apocalyptic Inventor] has built a stereo tube amplifier in the style of the Fallout video games. The idea came when he realised that the TK 125 tape recorder manufactured by Grundig was still using tube audio in the late 60s. What's more, they frequently sell on eBay for 1-10€ in Germany. [TPAI] was able to salvage the main power amplifier from one of these models, and restore it so that it could be re-purposed and see use once more.
The teardown of the original cassette recorder yields some interesting parts. Firstly, an integrated motor transformer — an induction motor whose stator acts as the magnetic core of the transformer responsible for the tube electronics. There's also an integrated capacitor which contains three separate electrolytics. The video after the break is well worth a watch (we always find [TPAI]'s videos entertaining).
A new chassis is created out of a steel base plate and aluminium angle, and some neat frames for the motor transformers are made from scrap copper wire bent and soldered together. It looks great, though there's always the option to use a cake tin instead.
If you're interested in the design of tube amps, we've covered heaps of cool builds: from this low-voltage design to this tiny guitar amp, or even ones using tubes which are flat.