This Bluetooth speaker is full of delightful surprises. The outer shell is an antique radio cabinet, but its practically empty interior is a combination of Dead Bug circuitry and modern BT receiver.
[PJ Allen] found the BT receiver on Groupon and decided to whip up amplifier and threshold detector circuits using only parts he already had in order to make this vintage-looking Bluetooth speaker. The cabinet is from a Silvertone Model 1955 circa 1936. Don't worry, no antiques were harmed in the making of this hack, the cabinet was empty when he bought it.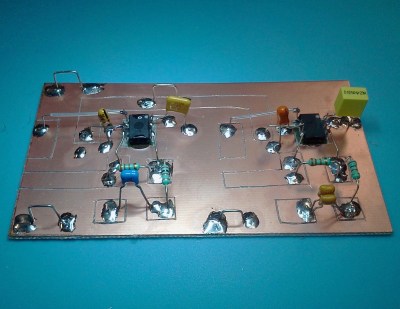 The amplifiers, one per speaker, began life as a circuit from TI's LM4871  datasheet. Some of the departures came about because he didn't have the exact component values, even paralleling capacitors to get in the right range. The finished board is a delightful mix of "Dead Bug" and quasi-Manhattan style construction, "quasi" because he carved up the ground plane instead of laying pads on top of it.
Look at the front of the cabinet and you'll see a rectangular display. Watch the video below and you'll see that it throbs in time to the music. To do that he came up with a threshold detector circuit which started out based on a circuit from a  Sharp/Optonica cassette tape deck, but to which he made improvements.
Not all cabinets come empty though. Check out this post by our own [Gregory L. Charvat] about restoring these wonderful old radios.
Continue reading "Vintage Silvertone Cabinet Gets Bluetooth Treatment" →