Whilst modern technology relies heavily on satellites, it's easy to forget they're there; after all, it's hard to comprehend mostly-invisible lumps of high-density tech whizzing around above you at ludicrous speeds. Of course, it's not hard to comprehend if you've built a real-time satellite tracker which displays exactly what's in orbit above your head at any given time. [Paul Klinger]'s creation shows the position of satellites passing through a cylinder of 200 km radius above the tracker.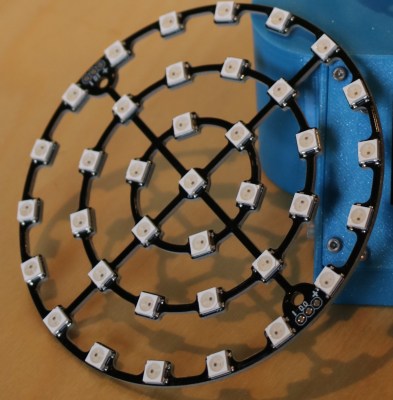 Each layer of LEDs represents a specific band of altitude, whilst the colour of the LEDs and text on the screen represent the type of object. The LEDs themselves are good old WS2812b modules, soldered to a custom PCB and mounted in a 3D-printed stand. The whole thing is a really clean build and looks great – you can see it in action in the video after the break
On the software side, a Raspberry Pi is in charge, running Python which makes use of pyorbital for some of the heavy lifting. The data is taken from space-track.org, who provide a handy API. All the code is on the project GitHub, which also includes the 3D print and PCB files.
[Paul] answers questions in the reddit thread, and gives more detail in this reddit comment. The project was inspired by one of our favorite sites: stuffin.space.
Some of the satellites the device displays are de-commisioned and inactive. Space junk is a significant problem, one which can only be tackled by a space garbage truck.