It's easy to forget how much illness and death was caused by our food and drink just one hundred years ago. Our modern food systems, backed by sound research and decent regulation, have elevated food safety to the point where outbreaks of illness are big news. If you get sick from a burger, or a nice tall glass of milk, it's no longer a mystery what happened. Instead we ask why, and "who screwed up?"
In the early 20th century though, many food-borne illnesses were still a mystery, and microbiology was a scientific endeavor that was just getting started. Alice Catherine Evans was an unlikely figure to make a dent in this world at the time, but through her research at the United States Department of Agriculture's (USDA), and later at the Hygienic Laboratory (now the National Institute of Health) she had a huge impact on the field of bacteriology, the dairy industry, and consumer safety.
Childhood and Education
In her memoirs, Alice describes her childhood and continuing education as a straight path with limited options:
Until my academic education was completed I seemed never to have an opportunity to make a choice in matters concerning my future. I always stepped into the only suitable opening I could see on my horizon.
Growing up on a farm in rural Pennsylvania, her primary education took place in the local one-room schoolhouse with "good teachers most of the time". With no high school available in her district, she traveled to a nearby town for her secondary eduction.
Without the financial means to attend college, she pursued the only professional career available to women at the time: teaching. She taught grades 1–4 for four years, but despite finding the children interesting, she quickly grew bored with teaching the same curriculum over and over again. "I was glad when I found a way to escape", she said of that time.
Her escape was facilitated by another opportunity that presented itself: the College of Agriculture at Cornell University started offering a tuition-free two-year course for rural teachers intended to help them foster a love of nature in their students. Using savings from her time spent teaching, she attended this Nature Study course, and studied botany, zoology, entomology, ornithology, geology, and meteorology. By the time she was done with her studies, she was hooked:
I was no longer interested in obtaining the certificate to which I was eligible. My interest in science had been whetted by the basic courses I had taken, and I wanted to continue the study of science – any branch of biologic science would satisfy me.
Luckily, at this time the college was accepting out-of-state students, tuition-free, to its regular courses. With the help of a scholarship, Evans was able to complete her B.S. in Agriculture in another two years. Being generally uninterested in the study of applied agriculture, she chose to specialize in the only pure science available to her: bacteriology.
Finally, on the recommendation of a professor at Cornell, Evans applied for and won a scholarship studying bacteriology at the University of Wisconsin, where she completed her Masters degree. Afterwards, although presented with an opportunity to obtain a Ph.D. in chemistry, she decided to leave behind the financial and physical strains of college and accepted a research position with the USDA.
Early USDA Career
At this time, the USDA was expanding its research team, but lab space was limited. The USDA was providing funding for researchers who would work in state-funded labs until space in Washington D.C. was ready.
The hiring decisions for these positions were made by the professors running the investigations, so – under this unique structure – Evans was hired in a University of Wisconsin lab as a bacteriologist representing the Dairy Division of the USDA Bureau of Animal Industry. The lab was investigating how to improve the flavor of Cheddar cheese.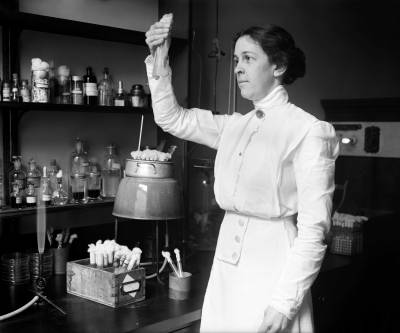 On July 1, 1913 researchers were required to move into the newly completed laboratory in Washington. On her journey an acquaintance in Chicago – who had just returned from the USDA – related that the Dairy Division "did not want any women scientists":
According to hearsay, when the bad news broke at a meeting of B. A. I. officials that a woman scientist would be coming to join their staff, they were filled with consternation. In the words of a stenographer who was present, they almost fell off their chairs.
Apparently the Bureau's officials had never considered the possibility that the local professors in charge of hiring USDA investigators for their labs would want a woman on their research teams.
Regardless, as she settled into the new lab, she found that her immediate superiors didn't share the Bureau's view of women scientists, and it was a good place to work. The Dairy Division had many investigations already under way when she arrived, including studying the effects of pasteurization on milk, researching manufacturing methods for butter and cheese, and searching for sources of bacterial infection in dairy products.
Her first assignment was to collaborate with a chemist to find methods for identifying bacteria. As this research did not fill her time, she was given a problem to investigate on her own: she was to study the bacteria that occur in fresh milk. This task led to one of her most important discoveries: the link between a cattle-borne bacteria (later named Brucella abortus), and a feverish illness in humans.
Brucella and Undulant Fever
Contrary to many summations of Evans' work, she did not discover the Brucella abortus bacteria itself. Brucella abortus was already identified (though named Bacillus abortus at the time) as the cause for spontaneous contagious abortions amongst cattle, and was known to exist in the udder and milk of apparently healthy cows. It had even been suggested that this bacteria could infect humans. And so, she says:
The idea of drinking milk contaminated with bacteria capable of causing disease in animals was distasteful to me.
This led her to focus on Brucella abortus and to investigate whether it was related to any bacteria known to cause human disease.
A consult with a Bureau pathologist provided her first clue: she discovered that goats who appear healthy can infect humans with what was then called undulant fever or Malta fever. This set her off to investigate the relationship between Brucella and the bacteria that cause undulant fever.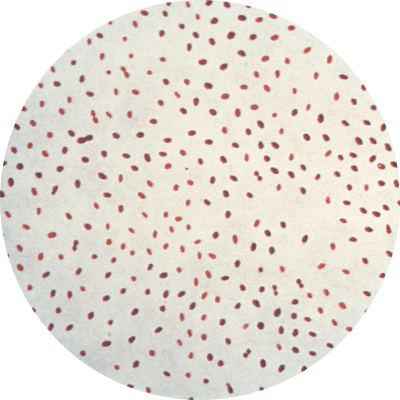 There was a pretty good reason that nobody had ever guessed that the two bacteria were related: the bacteria that cause undulant fever had been described as spherical in shape, and were thus lumped into the Micrococcus genus, whereas Brucella abortus was considered to be rod-shaped, and had been placed in the Bacillus genus.
Evans discovered that the shapes of both strains are actually similar: rod-shaped, but divided into varying lengths, with some segments so short as to appear spherical. Depending on growth conditions some cultures could present as mostly spherical.
The physical similarities between the two bacteria prompted Evans to investigate further. The laboratory tests available at the time for differentiating bacterial strains found that they behaved alike. Tests on pregnant guinea pigs were also performed, with both strains causing abortions along the same timeline.
These findings were presented at a meeting of the Society of American Bacteriologists in December of 1917. In the subsequent paper, Evans commented on how, given the similarities between the two bacterial strains, and the reported infection rate in cow's milk, "it would seem remarkable that we do not have a disease resembling Malta fever in this country". Further:
Are we sure that cases of glandular disease, or cases of abortion, or possibly diseases of the respiratory tract may not sometimes occur among human subjects in this country as a result of drinking raw cow's milk?
The paper was met with skepticism, but Evans' claims would eventually be confirmed over the next decade, and both strains of bacteria would be placed under the Brucella genus, with brucellosis becoming the new name for the fevers and other symptoms caused by Brucella bacteria.
Effects of Her Research on the Pasteurization of Milk
Evans' research eventually helped convince the dairy industry that pasteurization of all milk was necessary, but not without a lengthy struggle. One issue was the belief that a healthy-looking cow would always produce healthy, low-bacteria milk. Evans' research had shown that this is not true, but science can be slow and uncomfortable evidence can be ignored, especially when pasteurization equipment is so expensive.
The dairy industry developed a grading and certification system instead. Everything below Grade A would be pasteurized. Grade A was harvested from healthy-looking cows inspected by veterinarians, and handled under the strictest cleanliness conditions. It had very low bacterial counts and Big Dairy thought that was enough.
But it wasn't enough. Though opposition to pasteurization was already on the decline, an ironic case of brucellosis proved to be a turning point: the child of an officer in the dairy industry came down with the illness. They had only consumed certified Grade A milk, of course. This made the issue plain to see and helped convince the remaining doubters that pasteurization was necessary to ensure the safety of milk and other dairy products.