Translating rotary motion to linear motion is a basic part of mechatronic design. Take a look at the nearest 3D-printer or CNC router — at least the Cartesian variety — and you'll see some mechanism that converts the rotation of the the motor shafts into the smooth linear motion needed for each axis.
Hobby-grade machines are as likely as not to use pulleys and timing belts to achieve this translation, and that generally meets the needs of the machine. But in some machines, the stretchiness of a belt won't cut it, and the designer may turn to some variety of screw drive to do the job.
Lead Screws
We have all seen CNC projects where the builder has built a linear actuator from a length of hardware store threaded rod. Chopped to size with a hacksaw, held in place with a couple of bearings, and attached to a stepper with a coupling of some type, these screw drives do a decent job of producing linear motion. But it's far from a perfect solution, mechanically speaking.
The main problem with this arrangement is the thread profile. As we mentioned in our post on screw threads, the V-thread profile on threaded fasteners is optimized for providing a high axial clamping force and a "non-overhauling" property, or the tendency for the fastener to self-lock. This requires a high friction arrangement, which is not optimal for a screw drive.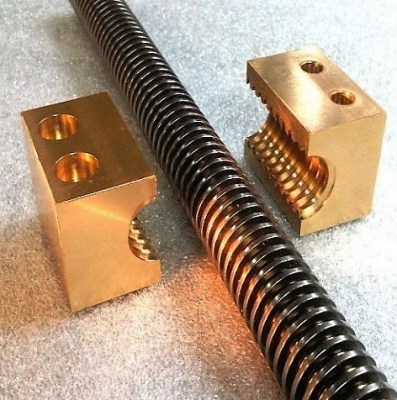 A lead screw, on the other hand, has a thread optimized for reducing friction. Lead screws commonly use a different thread profile such as the trapezoidal Acme profile. Also, the lead of the thread, or the distance along the screw's length that one full turn of the thread covers, tends to vary more in lead screws than with threaded fasteners. Precise positioning and non-overhauling can be obtained with a shorter lead; long lead lengths will allow the lead screw to translate fewer rotations into longer linear travel. Lead screws also differ from threaded fasteners in that they often have multiple starts. Each individual thread is called a start, and lead screws often have two or more threads nested together along the surface of the screw.
Every screw needs a nut, and lead screws are no exception. The lead screw nut is a part with an internal thread that mates with the lead screw's external thread, and provides some way to secure the nut to the machine and transmit the force produced by the rotation of the lead screw. Because the mating surface of the lead screw and nut tends to be much longer than would be the case for a threaded fastener, a lead nut tends to be made from materials that will reduce friction as much as possible. Bronze is commonly selected for its natural lubricity; sintered bronze is often used too since it can be impregnated with lubricants. Plastics are not uncommon, although they can limit the loads that the lead screw can handle.
Ball Screws
While lead screws deliver great performance for many applications, they are not without their disadvantages. Their main downside is mechanical inefficiency. A lead screw typically converts 20% to 80% of the applied torque into linear thrust, with the rest wasted as frictional heating. This heating can lead to another disadvantage: limited duty cycle. If you've ever run a nut along a threaded rod by spinning the rod in a drill, you'll get an idea of how much heat can be generated by a lead screw. The heat can easily damage a lead nut, especially a plastic or composite one. So most lead screws have a limited duty cycle, to allow heat time to dissipate.
Ball screws are a different beast. They look similar to lead screws — a threaded rod with a nut — but function completely differently. Where the lead screw thread profile is generally trapezoidal, ball screw threads are more rounded. The ball screw nut also does not mate directly with the ball screw. Instead, the threads cut into the ball nut form circular channels which are filled with a line of small balls. The balls transmit force between the ball screw and the ball nut and are forced along the thread channel to a return channel, where they are delivered back into the thread channel for another trip.
The return path for the recirculating balls can be either internal or external. External return nuts have a small tube or tubes that channel the balls back into the interior of the nut, while internal return nuts have channels that are machined right into the nut body. Internal return nuts therefore tend to be larger than external returns. Like lead screws, ball screws can have multiple starts, in which case there will be multiple ball chains, and multiple return channels.
This recirculating ball mechanism is the key to the ball screw's efficiency over the lead screw. Where the lead screw has a long path of sliding friction between the nut and the screw, ball screws experience only rolling friction between nut and screw. Greater efficiency means reduced power requirements, and reduced friction means that limited duty cycles are less common with ball screws, some even being rated for continuous duty.
One Screw to Rule Them All?
As for accuracy, ball screws generally have the edge over lead screws thanks to reduced backlash. The ball nut can be preloaded by splitting it into two separate pieces that are pushed apart by a spring; this forces the balls to jam in the channel and removes the slop from the system. A similar approach can be taken with a lead screw, but the lower inherent friction of a ball screw makes the increase in friction due to preloading less of an issue than in lead screws.
While ball screws have higher load ratings, better positional accuracy, and higher efficiencies than similarly sized lead screws, they're far from perfect. Ball screws are much more expensive to manufacture than lead screws, owing mainly to the precision machining needed for both screw and nut. They also tend to not be self-locking no matter the lead of the screw, which might mean some applications will require a mechanical brake. Ball screws also are limited in translational speed by how fast the balls can circulate through the nut before causing damage. Also, a ball screw nut cannot be disengaged from the ball screw like a lead screw can if it has a split nut or half nut, which is important in threading operations on lathes.
The design choice between ball screws and lead screws is complex. Ball screws cost more up front, but they tend to deliver better accuracy and lower maintenance costs in the long run. Then again, the positional accuracy and increased load handling of ball screws may be overkill for some applications; in such cases, a lead screw may be fine. Then again, the increased friction of a lead screw might mean that the motor driving it will need to be upsized, and the lower duty cycle of the lead screw might be an issue.
[Featured images: ABSSAC, Ltd., and Helix Linear Technologies, Inc.]