There was a time when microprocessors were slow and expensive devices that needed piles of support chips to run, so engineers came up with ingenious tricks using extra hardware preprocessing inputs to avoid having to create more code. It would be common to find a few logic gates, a comparator, or even the ubiquitous 555 timer doing a little bit of work to take some load away from the computer, and engineers learned to use these components as a matter of course.
The nice thing is that many of these great hardware hacks have been built into modern microcontrollers through the years. The problem is you know to know about them. Brett Smith's newly published Hackaday Superconference talk, "Why Do It The Hard Way?", aims to demystify the helpful hardware lurking in microcontrollers.
Join us below for a deeper dive and the embedded video of this talk. Supercon is the Ultimate Hardware con — don't miss your chance to attend this year, November 15-17 in Pasadena, CA.
Coming of Age In a World of Fast Computing
Today's hardware hackers often did not arrive in the world of microcontrollers after an apprenticeship in the bare-metal world of 8-bit microprocessors, instead they are more likely to be of the generation who learned to code on a PC or Mac and who came to hardware through boards such as the Arduino. They are good at coding and for them computers have always been very fast indeed. What would have necessitated a hardware solution for those grizzled old engineers is for today's engineers a problem that can be dealt with in software.
This is fine, until you find yourself using a platform with limited resources such as a low-cost microcontroller. Suddenly clock cycles matter just as they did years ago, and a few lines of code or a function call can make enough difference as to ruin a project.
What to Look For in Microcontroller Features
At this point those extra bits of hardware might come in extremely useful, but you don't see much in the way of 74 logic or other chips surrounding a typical ATtiny or PIC. This is because many microcontrollers come with components such as comparators, timers, or basic combinational logic built-in, there to be enabled through software. These are not immediately apparent to someone who came to microcontrollers through software alone, and hence the point of Brett's talk. Why do it the hard way when you can often pick a microcontroller that already contains the hardware to preprocess your inputs without extra code?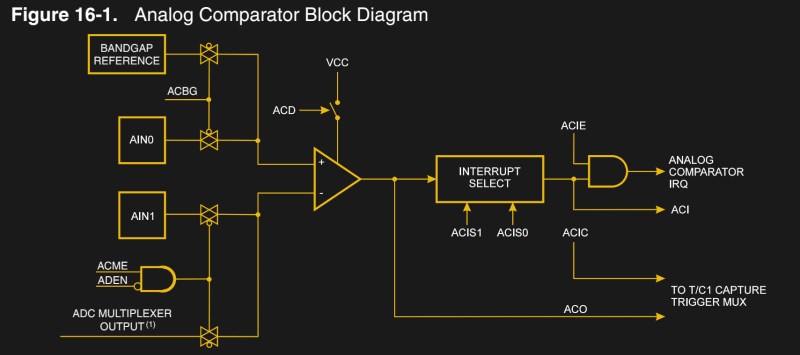 The example he starts with sets the tone, a simple analog input to trigger once a certain level is reached. Using an analog read function followed by a compare does the job, but at the expense of those valuable clock cycles. The trick is in the discovery of the microcontroller's built-in comparators that can do the job for free.
Brett exhorts us to study the data sheets for popular chips, and even takes us through a few examples. Features such as pin-change interrupts, or inbuilt quadrature decoders are mind-blowing, if you were unaware that they were on-board.  Along the way he touches on entertaining annoyances such as different vendor's names for them, to give you a head start on those data sheets.
In addition to the talk below you can check out Brett's own blog post about on the topic. He's also made his slides available as a .pptx file, if you are interested.