Smartphone features used to come thick and fast. Cameras proliferated, navigation got added, and then Apple changed the game by finally making touch computing just work. Since then, truly new features have slowed to a trickle, but Apple's innovative crash detection system has been a big deal where safety is concerned.
The problem? It's got a penchant for throwing false positives when iPhone and Apple Watch users are in no real danger at all. We first covered this problem last year, but since then, the wintery season has brought yet more issues for already-strained emergency responders.
Was That a Crash Or Are You Just Happy To Be Skiing?
The crux of Apple's safety system is the motion hardware built into all of its smartphones and Apple Watches. In particular, the Apple Watch 8 and iPhone 14 rely on this hardware to detect extreme acceleration events.
The logic is simple. If a person wearing a smartwatch or carrying a phone is subject to a serious acceleration event in excess of a few G, they've probably been in a nasty accident. The devices combine their motion sensor data with contextual clues, too. If the user is paired with a car via Bluetooth, or getting driving directions, they've probably been in a car accident. If they were logging a hike, they may have had a fall. If the system decides that an incident has occurred, it will first throw up a prompt on screen. If the user doesn't respond, it will automatically call first responders, and provide them with the location of the incident.
If you're incapacitated as a result of a car crash or a fall, such a system could literally save your life. It's particularly useful if the incident happens on a remote road or a deserted trail, where you might otherwise be all alone.
The problem is that Apple's hardware is susceptible to false triggers from perfectly safe high-acceleration events. Previously, we've heard of the system triggering due to phones falling off of motorcycles or people riding rollercoasters. The winter season has brought a new deluge of false alarms, though, as Apple's customers hit the ski slopes in earnest. Skiing, snowboarding, and other associated winter sports often involve high speeds and big jumps, which can readily generate high acceleration events. These are erroneously determined to be crashes or falls by iPhones and Apple Watches. Few skiers are checking their devices during the middle of a run, so the devices inevitably end up calling first responders after the user fails to respond. Authorities aren't in the habit of ignoring 911 calls, and so much effort is wasted on responding to these needless false alarms.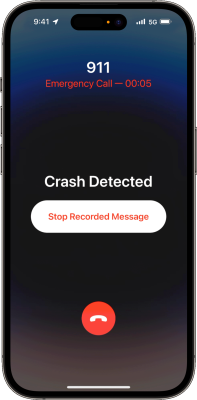 The problem has been severe in Colorado, where authorities have reported a deluge of false alarms from Apple devices. When callers don't respond, dispatchers must send ski patrollers to head to the area of a reported incident to verify there isn't an injured skier in need of assistance. The director of Summit County's 911 Center reported that the agency hasn't had a single legitimate call from the system, despite many false positives.
In British Columbia, Canada, helicopter rescuers have regularly flown out to reports only to find nobody around. In many cases, it's suspected iPhones or Apple Watches may have bounced around sitting in backpacks or snowmobile storage compartments, triggering the calls. Utah has also seen significant numbers of calls coming in from Apple devices activated by Crash Detection. Agencies reported up to three to five calls per day during the December ski period. Most skiers called back by authorities were unaware their device had made a call at all, though many were able to give the all-clear prior to rescuers being dispatched.While the false alarms are frustrating, Utah authorities aren't asking skiiers to switch the feature off. Instead, they're glad that there is a safety net for those that may get injured on the mountains far from help.
Disabling Crash Detection does make sense in some contexts. On a rollercoaster, for example, the likelihood of injury is low. Plus, there are many bystanders and staff around to assist anyone that comes to harm. However, out on the ski slopes, there's often nobody around for miles, so disabling the safety features isn't necessarily the way to go. It's a nice thing to have when you're out skiing alone or in a small group.
Apple has made regular updates to its system, most recently with iOS 16.2. However, the regular occurrence of these false alarms indicate the software hasn't been perfected yet. The latest revision of Crash Detection now asks users if a false alarm has been triggered, which should help Apple collect data to refine the system.
Apple really needs to be sending a few dozen engineers on a ski holiday to collect data and refine the detection regimes for winter sports use. Some measures to detect whether a device is being worn or simply left in a backpack to shake around may also be useful. In the latter case, high accelerations are always going to be a problem, and the user won't be looking at the device to call off the alarm. At the very least, Apple would do well to better educate its users on how its Crash Detection system works, how it can best protect them, and how to ensure they're not inadvertently causing grief for the hard-working emergency responders who are out there to help.
Featured image: "Sturz" by Yashima.