We've covered a number of projects that assist makers who need to fill orders for their small businesses, or kitting. [Helmke] has sorted thousands of pieces of hardware that they include with 3D printed parts sold online. They have been developing an alternative, a modular system for sorting and packaging specific quantities of parts.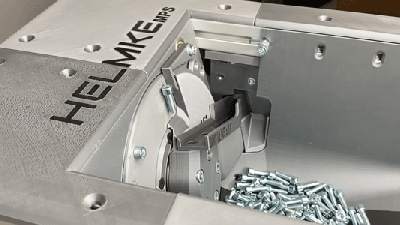 After the break, check out the latest video from their small but growing channel for a very clear walk-through of the counting system they've been iterating on. The 2nd video in the series explores solenoids, Geneva drives, and ultimately a sprocket to dispense a variable number of bolts from the sorting machine. The approach gives consistent results, easily to vary quantities, and is fast! These videos are also rich with lots of small details you might want to explore on your own like magnetic part feeding, discussions of different sensors for detecting and counting parts, 3D printed gear box designs, and we love the use of stackable crates for project enclosures.
We hope to see more videos from [Helmke] in the series as the project matures for deeper dives into the existing mechanisms and new features they develop next. Hungry for more? We've brought you everything from cutting and stripping wire, to SMD tape, to resistors, to laser-cut parts.