Putting on a headset and using virtual monitors in VR instead of physical ones is a use case that pops up, but is it really something feasible? [Karl Guttag], who has long experience and a deep understanding of the technical challenges that face such devices, doesn't seem to think so.
In his writeup [Karl] often focuses on the recently-unveiled high resolution Apple Vision Pro, but the issues he discusses transcend any particular product. His article is worth the read for anyone with an interest in these issues, but we'll summarize some main points here.
A primary job of a monitor is to display text. Text is so important, in fact, that it gets handled as a special case. Font hinting is the process (and art) by which the fine details and lines inherent to text are translated to a pixel grid for best appearances in all circumstances. This grid fitting — specialized mapping of characters to fit a rasterized grid of pixels — has been a major part of computers for over forty years, and almost all font rendering relies on it. It's an especially important part of making text look good on lower resolution displays.
But normal grid fitting cannot be applied to a virtual monitor because one cannot rely on content being rendered in any particular orientation. Between a monitor and a virtual display of equal resolution, virtual text will always look worse because the usual grid fitting tricks don't work. Giving a virtual monitor higher resolution is one way to fix this, but at least so far, virtual monitors are going to have fewer pixels to work with, not more. Physical monitors do not have to share their pixels with anything else, but the little screens inside VR headsets do.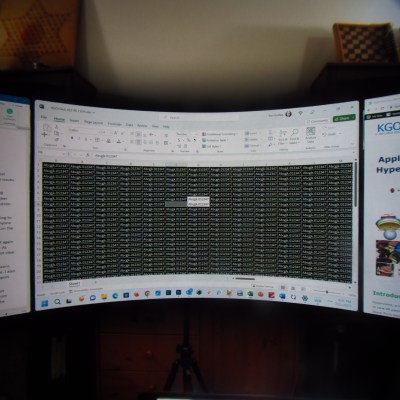 Making virtual monitors bigger is another way to give them more pixels, but as virtual monitors get bigger they get less comfortable to use. As soon as one begins to have to move one's head to read the whole screen, things get very tiresome very quickly. For serious desktop computer work, movie theatre-sized virtual monitors are not ideal.
[Karl] seems to have good reasons to believe VR headsets will continue to make poor monitor replacements, but there are other efforts from people and organizations trying to make it work. The SimulaVR folks, for example, aim to make an open-source Linux headset that functions primarily as a monitor replacement, and their proposed solution to boost resolution is a lens that squashes pixels towards the center of the field of view. Another direction is from a company unsatisfied with existing headsets' ability to render virtual monitors, so they announced their own. Neither of those are finished products one can actually buy at the moment, but clearly [Karl] isn't the only one thinking about these problems.
Would you use a VR headset to replace your monitor? Either way, such a headset would probably make a good basis for a cyberdeck build.