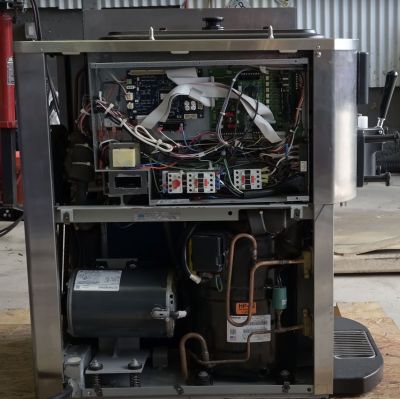 Raising a likely somewhat contentious topic, iFixit and Public Knowledge have challenged the manufacturer behind McDonald's ice cream machines to make them easy to diagnose and repair. This is a subject that's probably familiar to anyone who is vaguely familiar with US news and the importance of ice cream at McDonald's locations to the point that a live tracker was set up so that furtive customers can catch a glimpse at said tracker before finding themselves staring in dismay at an 'Out of Order' sign on one of these Taylor ice cream machines.
The story is more complex than just a machine being "broken", however. The maintenance contracts are lucrative, the instruction manual is long, and the error codes are cryptic. When you add to that the complexity of cleaning and maintaining the machines, it's tempting to just claim the machine is out of order. These Taylor machines (the C602 and the C709 from the iFixit video) are a bit more complex than your usual ice cream maker in that they also have a pasteurization element that's supposed to keep already poured mix safe to use the next day.
During the heating cycle and other functions errors can occur that will trigger error messages on the screen, as detailed in the C602 manual. These manuals are apparently available to the employees at McDonald's establishments, but according to iFixit and those in the business, many error messages still necessitate a (very expensive) call to a service technician. It should be noted that the Taylor Company has been repeatedly bought by and sold off to other companies since 1967, with the Middleby Corporation being the parent company since 2018.
Perhaps the more puzzling aspect of this whole saga is why it is that consumer-oriented organizations are essentially fighting McDonald's battles for them, as here only McD customers are deprived of a treat, rather than being the ones who are paying the thousands of dollars in service costs. Where these machines are somewhat interesting is on the used market, which is when hacking them becomes somewhat interesting, and that's where the DMCA exception that iFixit and Public Knowledge are asking the US Copyright Office for makes sense, as hacking an ice cream maker you own should be your right. Just don't hack the one at your local McD's without explicit written permission.