When we say vintage video game, some of you may think of the likes of Lemmings, Mario or maybe even Donkey Kong but the game that [Vintage Apparatus] restored is slightly older and much more minimalist, using an LED matrix and some 7-segment displays rather than this newfangled color CRT thing.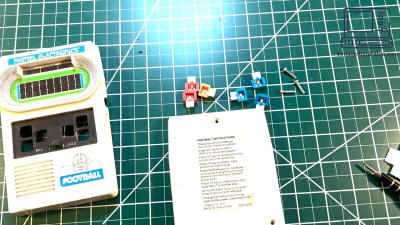 [Vintage Apparatus] starts by removing the battery and cover from the 1977 Mattel electronics (American) football game, which uses rather uncommon 2mm triangular screws. To his and our surprise, the circuit board and its beautiful array of LEDs seem to be in excellent condition, so he moves on to cleaning the case itself.
The case, on the other hand, is a bit dirty on the outside, so [Vintage Apparatus] takes out the buttons and starts cleaning with the back cover a Q-tip. After a bit of scrubbing and some extra care to avoid removing any stickers, he moves on to the considerably dirtier and somewhat scratched front case. After some wrestling with the creases and speaker grill of the front cover, the outside of the front case looks nice and clean. Finally, he puts back the buttons and circuit board in the front cover before adding closing it all up with the back cover and screwing it back together.
The game, which immediately comes to life and was actually made by the Mattel calculator division, is a sort of evasion game where the player is a bright dot that can move forward, up or down. The player avoids the dimmer dots, the "tacklers", in order to run as far as possible as fast as possible. When one of the tacklers tackles the player, the amount of downs is increased and the fifth down means game over. After either scoring or getting downed one too many times, the field is flipped and it's now player 2's turn.
Video after the break.
Continue reading "Restoring A 45 Year Old Video Game" →