It takes a surprising amount of planning and work if you want something to look old. [vemeT5ak] wanted the Echo Dot sitting on his desk to fit a different aesthetic motivated by a 1940s Canadian radio. Armed with Solidworks, a Tormach CNC, and some woodworking tools at Sector67 hackerspace, he built a retro-futuristic case for the Amazon Alexa-enabled gadget. Future and past meet thanks to the design and material appearance of the metal grille and base molding wrapping the wood radio case. The finishing touch is of course the ring of blue light which still shines through from the Echo itself.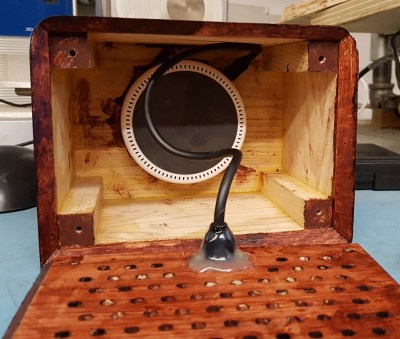 It took about 15 hours of modeling, scaling, and tweaking in Solidworks with an interesting design specification in mind: single-bit operation. This single-bit is not in the electrical sense, but refers to the CNC milling operation. All pieces are cut with a 1/4″ end mill, without any tool changes. Metal pieces were milled from 6061 aluminum and the hickory case (with burgundy stain) was mostly cut on a table saw, but the holes were CNC machined.
What looks like an otherwise perfect build has a single flaw that eats up [vemeT5ak]'s soul; the Echo Dot has a draft angle that wasn't considered during modeling, and the hole is ever so slightly too wide, meaning it didn't press fit perfectly flush. Fortunately it's not noticeable behind the metal grill, and unless you knew (please help keep his dirty little secret), you would think everything turned out perfectly.
It turns out building a case for the Echo Dot is challenging for a few reasons; the rubbery material on the bottom doesn't allow anything to stick to it, and the sides are smooth and featureless with a taper that makes it difficult to lock it in. Many cases resort to clipping over the top to hold it in place. Others install it into a fish or a furby.