A few weeks ago I needed a power strip in my home office. The outlet in question is located behind a filing cabinet so it would need a low profile plug. I jumped on Amazon to buy a surge suppressor strip. That's when I noticed strips with rotating plugs. I've always had some apprehensions about plugs like that, though I could never quite put my finger on why. Looking at the reviews on this particular plug, I found some scary issues. Photos of melted plugs, melted outlets, and cries of "fire hazard". So I did what any crazy hacker would do – bought two power strips. One with a fixed right angle plug to use in my office, and one with a rotating plug to tear down.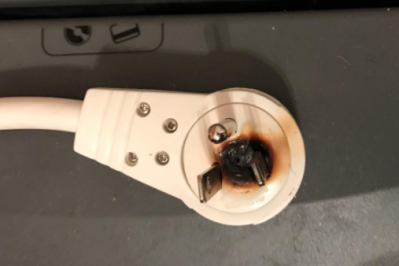 Surge suppressors, power strips, outlet strips, they have many names. Underwriter's Laboratories (UL) calls them "Relocatable power taps". They all have several outlets, most have a circuit breaker of some sort inside, and some have circuits for surge suppression. These are some of the most common devices to find in the modern home. Many of our houses were designed and built before surround sound, cable boxes, computers, modems, cell phone chargers, tablet chargers, and all our other modern conveniences. There weren't as many electrical loads, so the houses didn't have many outlets. Power strips solve this problem.
After a couple of days, I had my strips in hand. I expected the plug to rotate once – maybe 270 degrees. That would indicate there were wires connecting the rotating head to rest of the plug. Not so – this plug would spin round and round all day long.