Dexter, an open-source, high-precision, trainable robotic arm has just been named the Grand Prize winner of the 2018 Hackaday Prize. The award for claiming the top place in this nine-month global engineering initiative is $50,000. Four other top winners were also named during this evening's Hackaday Prize Ceremony, held during the Hackaday Superconference in Pasadena, California.
This year's Hackaday Prize featured challenges with five different themes. Entrants were asked to show their greatest Open Hardware Design, to build a Robotics Module, to design a Power Harvesting Module, to envision a Human Computer Interface, or to invent a new Musical Instrument. Out of 100 finalists, the top five are covered below. Over $200,000 in cash prizes have been distributed as part of this year's initiative where thousands of hardware hackers, makers and artists compete to build a better future.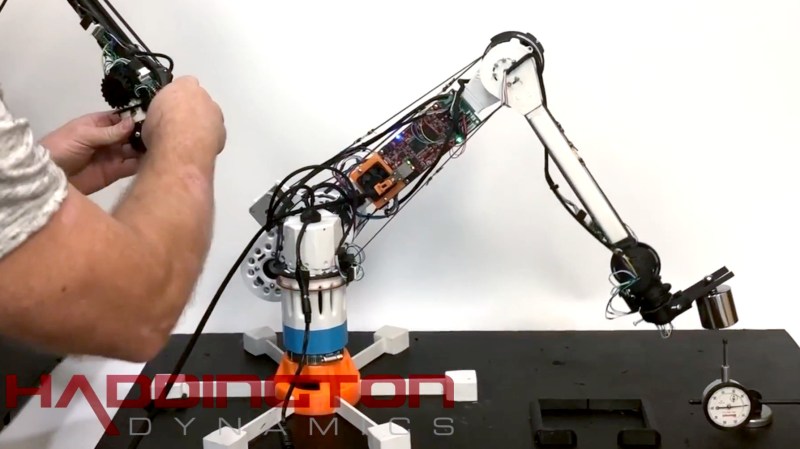 Dexter is the Grand Prize winner of the 2018 Hackaday Prize. This remarkable robotic arm design brings many aspects of high-end automation to an open source design which you can utilize and adapt for your own needs. In addition to impressive precision, the design is trainable — you can move the joints of the arm and record the motion for playback.
The image here shows position data from one arm being moved by a human, controlling another arm in real time. Each joint utilizes a clever encoder design made up of a wheel with openings for UV sensors. Sensing is more than merely "on/off". It tracks the change in light intensity through each opening for even greater granularity. The parallel nature of an FPGA is used to process this positioning data in real time.
Congratulations to all who entered the 2018 Hackaday Prize. Taking time to apply your skill and experience to making the world better is a noble pursuit. It doesn't end with the awarding of a prize. We have the ability to change lives by supporting one another, improving on great ideas, and sharing the calling to Build Something that Matters.