I've been using my Kinesis Advantage keyboard for two months, and I love it. I'll never go back to a regular keyboard again if I can help it.
There are a few downsides to it, however. The biggest one is that split distance between the two sides is fixed. It doesn't have Cherry MX blues (although the browns plus the firmware beeps is pretty nice). It doesn't have layers, really — just a ten-key under the right hand. And honestly, it's not very portable.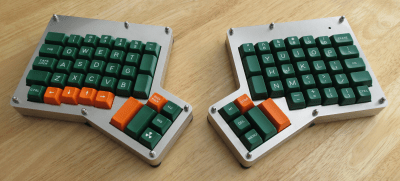 I took the Kinesis out to a coffee shop a few times before they all dried up into drive-thrus, and plunking it down on a four-top out in public made me realize just how large and loud it really is.
And so I'm building an ErgoDox keyboard. What I really want to build is a Dactyl — a curved variation on the ErgoDox — but I can't just go whole-hog into that without building some type of keyboard first. That's just my practical nature, I guess. I realize that the comparison is weak, because I'll have to hand-wire the keyboard matrix when I make the dactyl. Assembling an ErgoDox is child's play, comparatively. Our goal today is to lay out just what I'm getting myself into with a build like this one.
Continue reading "Inputs Of Interest: I'm Building An ErgoDox!" →