The Dutch organisation eth0 has run a series of informal small camps over the years, never with an attendance too far into three figures, and without pre-planned events or entertainment. What happens is at the instigation of the attendees, and the result is a weekend of much closer socialising and working together on projects than the large camps where you spend your time running around to catch everything.
The largest of hacker camps offer all the lights, robots, tschunk, and techno music you can stomach; they can be a blast but also overwhelming. I made my way eth0 over the past week weekend, enjoying the more intimate size and coming away having made friendships from spending time with great people at a large private camping hostel near Lichtenvoorde. This is in the far east of the country near the German border, to which in the company of a British hardware hacker friend I traveled in the tiny European hatchback. Netherlands roads are so easy to navigate!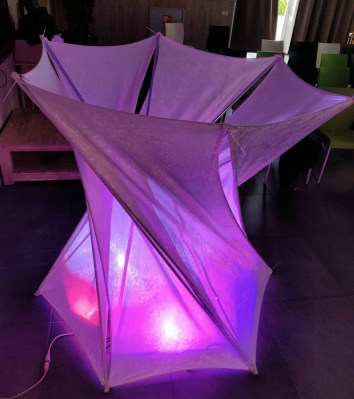 At the event was the usual array of activities, though since it was a restricted photography affair I'm short on wider shots that would include people. This year's hit came from surplus flipdot displays from retired German buses, with plenty of glitches as their quirks were figured out by our friends Nilkas Fauth and Jan Henrik. Something tells me I'll be seeing a lot of those fluorescent circles in the future.
I'd brought along the nucleus of a textile village, and RevSpace in the Hague had added their embroidery machine to my overlocker and sewing machines. Its operator was Boekenwuurm from Hackalot in Eindhoven who was kind enough to embroider a Wrencher for me, and now I want one of these 600-Euro machines even if I can't afford one. She and RevSpace's Igor Nikolic were experimenting with inflatables and tensegrity structures, creating prototypes with an eye to more impressive installations at future camps.
An entertaining tale of a couple of days hanging out with friends in the Netherlands countryside could probably be spun into a reasonable tale, but there was something more interesting still at this camp. It had a badge, courtesy of the prolific badge.team Dutch badge crew. It didn't come with their trademark ESP32 firmware though, instead in keeping with the budget of the event it was a prototyping board on which attendees could create their own badges. What came forth from that was extremely impressive, and continued after the event.
Continue reading "Eth0 Autumn 2019: Tiny Camp, Creative Badge" →