The North Sea in a winter storm is a spectacular sight, one of foam-crested waves and squalls driven on the gale. It's not a place to spend a lot of time if you are a land-lubber, so to cross it twice in a few weeks must mean there is something very much worth seeing on its other side.
But one of the best antidotes to February weather in the European hacker community was Hacker Hotel 2020. Around 350 people came from all the countries of the northwest of the continent to the comfort and hospitality of the Westcord Hotel de Veluwe in the eastern Netherlands, to experience a hacker camp with all the convenience and luxury of a resort hotel rather than a muddy field.
Three days in this environment results in a camp that's just a bit special, and one that's very much worth a visit if your range extends this far.
An Upscale Hotel Gets The Hacker Treatment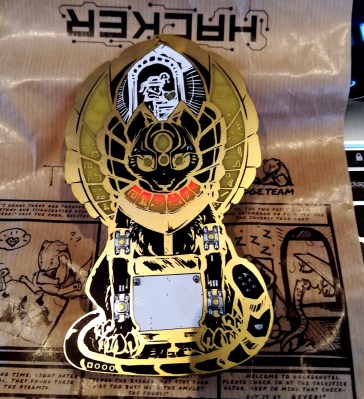 Our small party of Brits arrived a day early, on a damp Thursday morning ready to lend a hand with the set-up. Slowly an upscale business conference centre was transformed into a hacker camp venue, with conference rooms turned into lecture halls, lighting and video equipment in place and 3-phase power cables snaking along the skirting boards. A large hardware hacking area was set up in one wing of the building, then the EventInfra people came in and laid out a hacker-camp-grade wireless and wired network that delivered connectivity everywhere. The contrast between the two worlds is significant, but together they make for a unique experience.
One by one, hackers arrived from all points of the compass, bearing crates of the usual cool stuff. An amateur TV satellite earth station, a brace of oversized delta 3D printers, a coin-pushing game that's familiar from other camps. And smaller projects; little roving robots, indoor-sized multirotors, and several crates of outdated Chinese photo-frames that it's said can be hacked to run a Linux distro.
This is the lifeblood of a hacker camp, but of course the signature piece of hardware for any hacker camp is its badge. In this Hacker Hotel 2020 didn't disappoint, with a beautifully designed Ancient Egyptian-themed badge that concealed an array of puzzles across multiple levels. We'll cover the badge in detail in a separate piece, but suffice to say that it is something of a tour de force. For now let's jump into all of people and activities on offer at the con.
Continue reading "From Hacker Hotel 2020: Badges, Sharks, Tentacles, Old-School Hacking, And Much More" →