When the microwave oven started to gain popularity in the 60s and 70s, supporters and critics alike predicted that it would usher in the end of cooking as we knew it. Obviously that never quite happened, but not because the technology didn't work as intended. Even today, this versatile kitchen appliance seems to employ some magic to caffeinate or feed a growing hacker in no time flat. So, how exactly does this modern marvel work?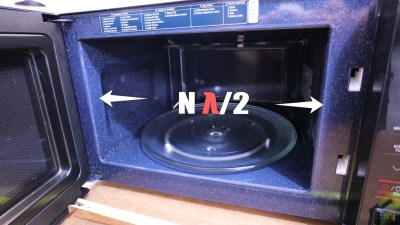 That's exactly what [Electronoob] set out to explain in his latest video. After previously taking apart a microwave and showing off the magnetron within he's back with a clear explanation of how these devices work.
Maybe you have no idea, or have heard something vague about the water in the food wiggling in response to the microwaves. Do you know why microwaves and not some other part of the electromagnetic spectrum? Why the food spins on a platter? How the size of the oven relative to the wavelength affects the efficiency of its cooking? We didn't, and think the video is a great primer on all of this and more.
Here at Hackaday, we sure love using and abusing microwave ovens. From upgrading them with voice control back in 2013, to turning them into UV curing chambers and mini foundries, to the limitless possibilities for the transformers and magnetrons that await us inside, we just can't get enough. (this is our 82nd article tagged with microwave!)
Continue reading "Dive Into The Microwaves, The Water's Dipolar" →