The concession stand at the Midwest Rep Rap Festival did not disappoint when it came to the expected fare: hot dogs, walking tacos, and bananas for scale. But the yummiest things there could not be bought—the Nutella prints coming off the Ultimaker² at the structur3D booth.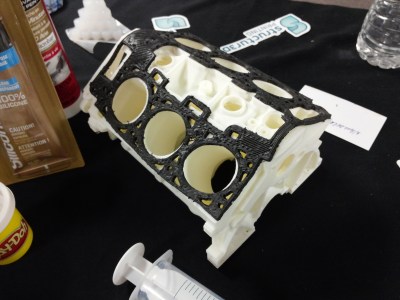 Hey, what? Yes, an Ultimaker² that can print in Nutella, icing sugar, silicone, latex, wood filler, conductive ink, polyurethane, peanut butter, and a growing list to which you should contribute. This is possible because of their Discov3ry Universal Paste Extruder add-on, which is compatible with most filament printers, especially those that use a RAMPs or Arduino control board.
A large syringe containing the substance of your choice is loaded business end up in the Discov3ry. It gets pushed through tubing that runs to the print head and out through one of many commonly available polypropylene or stainless steel tips. The structur3D team has found that printing on waxed paper works best for the materials they've proven out. Each syringe holds 60cc of stuff, and the Discov3ry comes with three of them. They are currently available for pre-order, with a shipping forecast of early summer.