A decade ago, the first Arduino projects featuring addressable RGB LEDs came on the scene, and the world hasn't been the same since. Now we have full wall video displays with WS2812s and APA102s, wearable blinky, and entire suits of armor made of LEDs. The future is bright, and in RGB.
For this week's Hack Chat, we're going to be talking all about how to maintain the blinky without eye-searing brightness. It's the LED Diffusion Hack Chat, full of tips and tricks on how to get the glowey without it being imprinted on your retina.
Our guest for this week's Hack Chat is the incredible Becky Stern. Becky is one of the most prolific makers around and has a long history of fabricating some really, really cool stuff. She's published hundreds of tutorials on everything from microcontrollers to computerized knitting machines, and has been featured by dozens of media outlets including the BBC, CNN, The Late Show with Colbert, VICE, and Forbes. Right now, she's working at Autodesk with Instructables.
During this Hack Chat, we're going to be talking all about diffusing LEDs, with topics including:
Taking some sandpaper to LEDs
Light pipes
3D printed LED enclosures
Looking into a bright blue LED with your remaining eye
You are, of course, encouraged to add your own questions to the discussion. You can do that by leaving a comment on the Hack Chat Event Page and we'll put that in the queue for the Hack Chat discussion.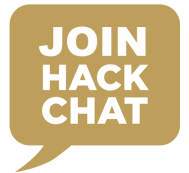 Our Hack Chats are live community events on the Hackaday.io Hack Chat group messaging. This week is just like any other, and we'll be gathering 'round our video terminals at noon, Pacific, on Friday, August 17th. Need a countdown timer? Here 'ya go.
Click that speech bubble to the right, and you'll be taken directly to the Hack Chat group on Hackaday.io.
You don't have to wait until Friday; join whenever you want and you can see what the community is talking about.