Throughout the history of America's human spaceflight program, there's been an alternating pattern in regards to abort systems. From Alan Shepard's first flight in 1961 on, every Mercury capsule was equipped with a Launch Escape System (LES) tower that could pull the spacecraft away from a malfunctioning rocket. But by the first operational flight of the Gemini program in 1965, the LES tower had been deleted in favor of ejection seats. Just three years later, the LES tower returned for the first manned flight of the Apollo program.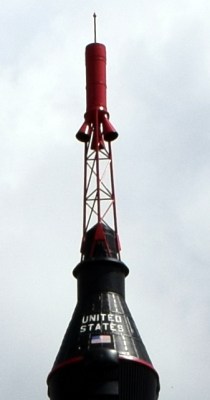 With the Space Shuttle, things got more complicated. There was no safe way to separate the Orbiter from the rest of the stack, so when Columbia made its first test flight in 1981, NASA returned again to ejection seats, this time pulled from an SR-71 Blackbird. But once flight tests were complete, the ejector seats were removed; leaving Columbia and all subsequent Orbiters without any form of LES. At the time, NASA believed the Space Shuttle was so reliable that there was no need for an emergency escape system.
It took the loss of Challenger and her crew in 1986 to prove NASA had made a grave error in judgment, but by then, it was too late. Changes were made to the Shuttle in the wake of the accident investigation, but escape during powered flight was still impossible. While a LES would not have saved the crew of Columbia in 2003, another seven lives lost aboard the fundamentally flawed Orbiter played a large part in President George W. Bush's decision to begin winding down the Shuttle program.
In the post-Shuttle era, NASA has made it clear that maintaining abort capability from liftoff to orbital insertion is a critical requirement. Their own Orion spacecraft has this ability, and they demand the same from commercial partners such as SpaceX and Boeing. But while all three vehicles are absolutely bristling with high-tech wizardry, their abort systems are not far removed from what we were using in the 1960's.
Let's take a look at the Launch Escape Systems for America's next three capsules, and see where historical experience helped guide the design of these state-of-the-art spacecraft.
Continue reading "New Space Abort Systems Go Back To The Future" →