Electric current comes in many forms: current in a wire, flow of ions between the plates of a battery and between plates during electrolysis, as arcs, sparks, and so on. However, here on Hackaday we mostly deal with the current in a wire. But which way does that current flow in that wire? There are two possibilities depending on whether you're thinking in terms of electron current or conventional current.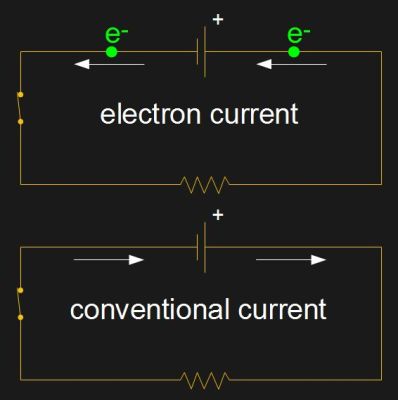 In a circuit connected to a battery, the electrons are the charge carrier and flow from the battery's negative terminal, around the circuit and back to the positive terminal.
Conventional current takes just the opposite direction, from the positive terminal, around the circuit and back to the negative terminal. In that case there's no charge carrier moving in that direction. Conventional current is a story we tell ourselves.
But since there is such a variety of forms that current comes in, the charge carrier sometimes does move from the positive to the negative, and sometimes movement is in both directions. When a lead acid battery is in use, positive hydrogen ions move in one direction while negative sulfate ions move in the other. So if the direction doesn't matter then having a convention that ignores the charge carrier makes life easier.
Saying that we need a convention that's independent of the charge carrier is all very nice, but that seems to be a side effect rather than the reason we have the convention. The convention was established long before there was a known variety of forms that current comes in — back even before the electron, or even the atom, was discovered. Why do we have the convention? As you'll read below, it started with Benjamin Franklin.
Continue reading "Conventional Current Vs. Electron Current" →