The trouble with being an incidental witness to the start of something that later becomes world-changing is that at the time you are rarely aware of what you are seeing. Take the Acorn Archimedes, the home computer for which the first ARM processor was developed, and which has just turned 30. If you were a British school pupil in 1987 who found a pair of the new machines alongside the row of BBC Micros in the school computer lab, for sure it was an exciting event, after all these were the machines everyone was talking about. But the possibility that their unique and innovative processor would go on to spawn a line of successors that would eventually power so much of the world three decades later was something that probably never occurred to spotty '80s teens.
[Computerphile] takes a look at some of the first Archimedes machines in the video below the break. We get a little of the history and a description of the OS, plus a look at an early model still in its box and one of the last of the Archimedes line. Familiar to owners of this era of hardware is the moment when a pile of floppies is leafed through to find one that still works, then we're shown the defining game of the platform, [David Braben]'s Lander, which became the commercial Zarch, and provided the template for his Virus and Virus 2000 games.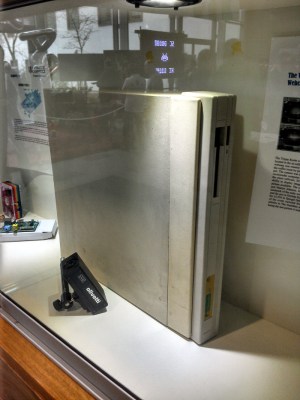 We see the RiscOS operating system booting lightning-fast from ROM and still giving a good account of itself 20 years later even on a vintage Philips composite monitor. If you were that kid in 1987, you were in for a shock when you reached university and sat down in front of the early Windows versions, it would be quite a few years before mainstream computers matched your first GUI.
The Archimedes line and its successors continued to be available into the mid 1990s, but faded away along with Acorn through the decade. Even one being used to power the famous Trojan Room Coffee Cam couldn't save it from extinction. We're told they can still be found in the broadcast industry, and until fairly recently they powered much of the electronic signage on British railways, but other than that the original source of machines has gone. All is not lost though, because of course we all know about their ARM joint venture which continues to this day. If you would like to experience something close to an Archimedes you can do so with another computer from Cambridge, because RiscOS is available for the Raspberry Pi.
Sit back and enjoy the video, and if you were one of those kids in 1987, be proud that you sampled a little piece of the future before everyone else did.