We are all aware of the typical wood shop vice, the type that is mounted underneath the workbench and takes forever to open and close by continuously spinning a large handle. These vises normally only open several inches due to the length of the operating screw. They are also not very wide because a cantilevered wide jaw would provide less force the further away it is from the center-mounted operating screw.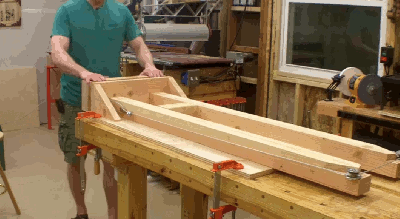 Wood worker [Andrew] wanted a very versatile and large vise for his shop. It needed to be wide, provide equal clamping force along the jaw and be able to hold very thick objects as well. One more thing, he wanted it to have a quick release clamping system so there would be none of that continuous handle spinning nonsense.
Spoiler Alert: [Andrew] did it! The end product is great but the interesting part is the journey he had taken along the way. There were 4 revisions to the design, each one making the vise just a bit better.
As you can see, this is a long vise, and it has to be to work how it does. The outermost jaw and those two long wooded 4×4's are one assembly and can move in and out independently of the base. The jaw is pulled open and after a work piece is put in place, the outermost jaw is slid back to close up any gap. The handle is then turned, spinning an axle that begins to wrap the cable around it. That cable is routed, by way of some pulleys, down one side of the 4×4's, across the open end and back up the other side terminating where it started, at the outermost jaw. This is where it gets weird, when the cable is pulled tight by turning the handle, the ends of the 4×4's get closer together and pinches that small block between the 4×4's. This now prevents the jaw and 4×4 assembly from easily sliding back and forth. As the handle is turned further, the hinge-mounted outermost jaw tilts in to clamp the part up against the innermost vise jaw.
[Andrew] can get a 20 inch long piece of wood in his vise. The vise opens much further but the 4×4's aren't able to bend enough to get a good grip on that center block. Clamping force across the jaws is even since the cables are out near the ends of the vice. After 4 revisions to his vise, [Andrew] is happy with how it turned out and plans to incorporate it in a new workbench he is building soon. He's made 4 videos documenting this project from beginning to end, including all the changes… check them out.