Since 2010, the United States military has been operating a pair of small reusable spaceplanes that conduct secretive long-duration flights in low Earth orbit. Now officially operating under the auspices of the newly formed Space Force, the X-37Bs allow the military to conduct in-house research on new hardware and technology with limited involvement from outside agencies. The spaceplane still needs to hitch a ride to space on a commercial rocket like the Atlas V or the Falcon 9, but once it's separated from the booster, the remainder of the X-37B's mission is a military affair.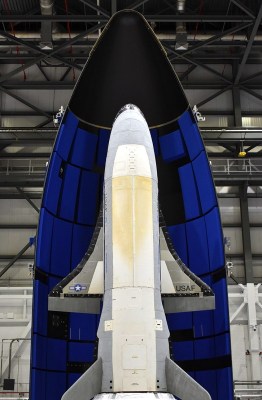 So naturally, there's a lot we don't know about the USSF-7 mission that launched from Cape Canaveral Air Force Station on May 17th. The duration of the mission and a complete manifest of the experiments aboard are classified, so nobody outside the Department of Defense truly knows what the robotic spacecraft is up to. But from previous missions we know the craft will likely remain in orbit for a minimum of two years, and there's enough public information to piece together at least some of the investigations it will be conducting.
Certainly one the most interesting among them is an experiment from the U.S. Naval Research Laboratory (NRL) that will study converting solar power into a narrow microwave beam; a concept that has long been considered the key to unlocking the nearly unlimited energy potential offered by an orbital solar array. Even on a smaller scale, a safe and reliable way to transmit power over the air would have many possible applications. For example it could be used to keep unmanned aerial vehicles airborne indefinitely, or provide additional power for electric aircraft as they take-off.
Performing an orbital test of this technology is a serious commitment, and shows that all involved parties must have a fairly high confidence level in the hardware. Unfortunately, there isn't much public information available about the power beaming experiment currently aboard the X-37B. There's not even an indication of when it will be performed, much less when we should expect to see any kind of report on how it went. But we can make some educated guesses based on the work that the Naval Research Laboratory has already done in this field.
Continue reading "X-37B Spaceplane To Test Power Beaming Technology" →