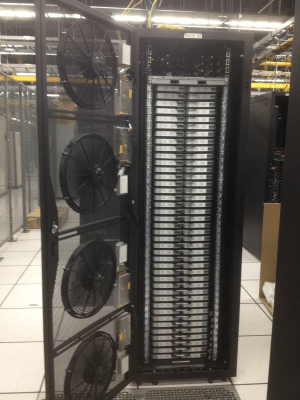 [Steve] needed an alternative to the Xserve, since Apple stopped making it. His solution was to stick 160 Mac Minis into a rack. That's 640 real cores, or 1280 if you count HyperThreading.
First, Steve had to tackle the shelving. Nobody made a 1U shelf to hold four Minis, so [Steve] worked with a vendor to design his own. Once challenge of this was managing the exaust air of each Mini. Plastic inserts were designed to ensure that exaust wasn't sucked into the intake of an adjancent Mini.
An array of 160 computers is going to throw a lot of heat. To provide sufficient airflow, [Steve] built a custom cooling door out of four car radiators fans, connected to a 40A DC motor controller. This was all integrated into the door of the rack.
Another challenge was getting power to all of the Minis. Since this deisgn was for a data center, the Minis would have to draw power from a Power Distribution Unit (PDU). This would have required a lot of PDUs, and a lot of cables. The solution: a one to four Y cable for the Minis. This allows each shelf of four to plug into a single outlet.
The final result is a professional looking rack that can replace a rack of Xserves, and has capacity to be upgraded in the future.