My introduction to electronic manufacturing was as a production technician at Pennsylvania Scale Company in Leola PA in the early 1980's. I learned that to work on what I wanted to work on I had to get my assigned duties done by noon or thereabouts. The most important lesson I had learned as a TV repairman, other than not to chew on the high voltage cable, was to use your eyes first. I would take a box of bad PCB's that were essentially 6502 based computers that could count and weigh, and first go through inspecting them; usually the contents were reduced 50% right off by doing this. Then it was a race to identify and fix the remaining units and to keep my pace up I had to do my own desoldering.
It worked like this; you could set units aside with instructions and the production people would at some point go through changing components etc. for you or you could desolder yourself. I was pretty good at hand de-soldering 28 and 40 pin chips using a venerable Soldapulit manual solder sucker (as they were known). But to really cook I would wait for a moment when the production de-soldering machine was available. There was one simple rule for using the desoldering station: clean it when done! Failure to do so would result in your access to the station being suspended and then you might also incur the "wrath of production" which was not limited to your lunch bag being found frozen solid or your chair soaked in defluxing chemicals.
One thing was that I could never afford was an automatic de-soldering station… until now. I have found that there is a wide assortment of stations available from overseas and through eBay that mimic their production quality brethren and I demonstrate here a vacuum based desoldering station, an Infrared Heat based station, and some other tools such as hot air and desoldering tweezers.
Vacuum Desoldering
The vacuum based through-hole desoldering station consisted of a soldering iron with a hollow tip and body which leads to a glass tube capped by a filer at one end which is also the end the vacuum is applied to. The trick is to heat up the whole solder joint (I use an ample amount of flux to assist) and then start the vacuum by pulling the trigger. During this time I am also wiggling the soldering iron tip in order to break the component pin free from the wall of the hole or plate-through. Done correctly both the PCB and the component being removed are reusable.
Infrared Desoldering
The infrared based system, referred to as an Infrared Welder by the manufacturer, can ultimately heat a smaller area to a hotter temperature than hot air, or so I believe. To mask off the surrounding area for hot air you need to keep your airflow low and redirect it away from the rest of the PCB. To redirect Infrared you use the reflective properties of aluminum foil. It's then mostly a matter of firing up the fume fan and having the patience to wait for the direct heat to do the job. Again a judicious use of flux helps.
Hot Air Desoldering
Hot Air is similar in that flux helps, fumes and smoke may be present and you have to have the patience to wait for the part to come fully loose — half loose doesn't cut it. To this end I recommend a hot air holder, a fume fan and an egg timer. If you don't have an egg timer I am sure there is an app for that somewhere.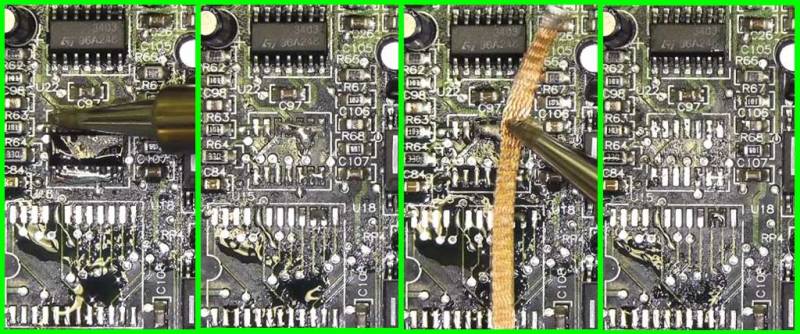 Desoldering with Chip Quik and an iron
I have found The quickest way to desolder SMT without investing in any of this equipment is to use a product like Chip Quik which lowers the melting point of the solder metal when mixed with it as it allows a soldering iron to melt the entire chip's footprint simultaneously allowing it to be removed.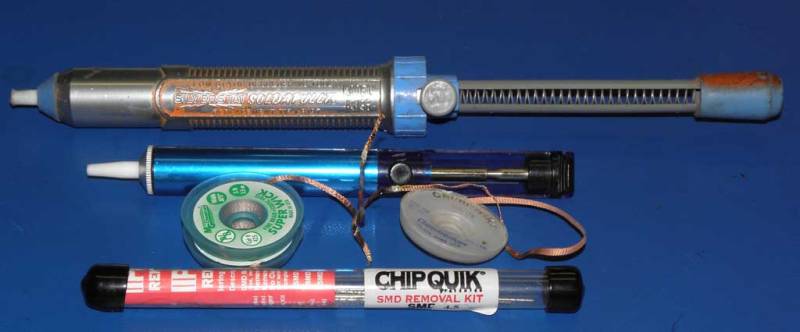 Desoldering Tweezers
Finally the tweezers. You don't need these… I certainly didn't. But what the heck, there is a certain cleanliness of motion that when removing a part with two pins to use what essentially is two soldering irons. Oh yeah… lots of flux first.
Back to the story: Four years later I had worked my way up to being one of the lead design engineers at the best home computer company of its day. We had hard deadlines like the CES show in Las Vegas which would inevitably occur while we still had 3% of the product to finish. It's a safe bet that being able to de-solder quickly and more importantly without damaging prototype chips and boards that were irreplaceable, was an indispensable skill at 2:00AM when any technician in their right mind would be home in bed instead of pulling chips for the engineer whose bed was an air mattress in his office. We never missed a CES.