For centuries, human-powered flight eluded mankind. Many thought it was just an impossible dream. But several great inventions have been born from competition. Challenge man to do something extraordinary, offer him a handsome cash incentive, and he may surprise you.
In 1959, London's Aeronautical Society established the Kremer Prize in search of human-powered flight. The rules of the Kremer Prize are simple: a human-powered plane must take off by itself and climb to an altitude of ten feet. The plane must make a complete, 180° left turn, travel to a marker one-half mile away, and execute a 180° right turn. Finally, it must clear the same ten-foot marker. While many tried to design crafts that realized this dream, man is, at his strongest, a weak engine capable of about half a horsepower on a good day.
By 1973, no one had claimed the Kremer Prize, and the incentive was raised to £50,000. This was enough to catch the interest of [Paul MacCready], an aeronautical engineer living in California with his wife and two sons. [MacCready] was an avid gilder pilot who devised the theory behind the MacCready speed-to-fly ring. He also enjoyed hang gliding with his family, and while driving around sometime after one of these trips, he daydreamed about a design based on a hang glider that could win the Kremer Prize.
[MacCready] assembled a team of friends to help build what he called the Gossamer Condor. Constructed out of thin aluminium tubing, piano wire, Mylar sheeting, and tape, the Condor weighed just 55 lbs. and was easy to repair or alter in a matter of minutes. It was designed to have a 96-foot wingspan with a second, smaller wing for stability. One of [MacCready]'s sons, [Tyler] was chosen as the pilot due to his size and hang gliding experience. By Christmas of 1976, the Condor had taken many test flights and [MacCready] was confident he could win the Kremer Prize.
Around that time, he and the team got wind of a group of students in Tokyo who had built a plane out of balsa wood and handmade paper. It had already made a straight, mile-long flight in under five minutes. But [MacCready & Co.] didn't know if it could turn. For that matter, they didn't know if the Condor could turn, either. It was time to get serious.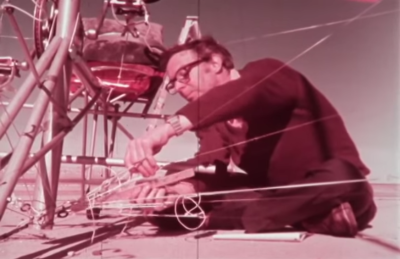 [MacCready] hired [Greg Miller], a professional cyclist, to take over as pilot. He also made some changes to the Condor, loosening the strings a bit, tightening the Mylar sheeting, and embiggening the propeller with a manila folder. For all of [Greg]'s cycling prowess, the lack of control over the Condor was out of his . . . control. The Condor must be able to turn in both directions, or there was no hope of winning the Kremer Prize. The team added rudders and flaps here and there, but nothing worked. [MacCready] went so far as to make a mini model of the Condor, which he flew around in a swimming pool in order to better understand the effects of air mass on the square wing with respect to making turns. It was about this time that he decided to go back to the drawing board.
Three weeks later, they had completely re-imagined the craft and moved to a different airport with less wind. Now the pilot would be completely enclosed in Mylar. The new wing was stiffened with Styrofoam and had a new, more aerodynamic V shape. The changes paid off: in March of 1977, the Condor set the record for man-powered flight in a trip lasting just over five minutes. They tested it on a mock-up of the Kremer course, but the trial ended with a crash that bent some poles and tore some Mylar.
Repairs were complete in under 24 hours, but it didn't fly as well as it had before the crash. [Greg] had to leave for Belgium to do professional cyclist stuff, and so [MacCready] found the Condor's third and final pilot in [Bryan Allen], who was skilled in both cycling and hang gliding. As [MacCready] pondered the crash that twisted one side of the wing, he wondered how a twist could be advantageous. The final design contained a lever that the pilot could use to pull the wires going to one end of the wing, which aided turning control tremendously.
After several redesigns and over 400 test flights, the Gossamer Condor claimed the Kremer Prize on August 23, 1977. It currently hangs from the ceiling of the National Air and Space Museum at the Smithsonian, right next to the Wright Brothers' plane and the Apollo 11 capsule. As for [Paul MacCready], his company, AeroVironment went on to capture the second Kremer Prize in June 1979 for crossing the English Channel with his second human-powered aircraft, the Gossamer Albatross.
[Thanks for the tip, Josuel]
Retrotechtacular is a weekly column featuring hacks, technology, and kitsch from ages of yore. Help keep it fresh by sending in your ideas for future installments.