Every year, more than 30,000 people are killed in motor vehicle accidents in the US, and many many more are injured. Humans, in general, aren't great drivers. Until dependable self-driving cars make their way into garages and driveways across the country, there is still a great amount of work that can be done to improve the safety of automobiles, and the best hope on the horizon is Vehicle to Vehicle communications (V2V). We keep hearing this technology mentioned in news stories, but the underlying technology is almost never discussed. So I decided to take a look at what hardware we can expect in early V2V, and the features you can expect to see when your car begins to build a social network with the others around it.
It All Started a Long Time Ago
The origins of V2V communications date back to 1991, in bill titled the Intermodal Surface Transportation Efficiency Act (ISTEA). ISTEA is best known for providing the impetus for high-speed rail lines that are still unbuilt 20 years later and the requirement for airbags to be installed in all cars and trucks sold after 1998. ISTEA also included a provision for research into something called the Automated Highway System Program (AHS), an effort that would lay the groundwork for V2V communications.
The product of the AHS program was a few miles of I-15 in San Diego being used as a test bed for technologies for the far-flung future. In 1997, the Automated Highway Demonstration commenced, with vehicles equipped with sensors, cameras, throttle, brake, and steering actuators, laser and millimeter wave rangefinders driving along a stretch of highway embedded with magnetic nails. If this program were enacted across the entire United States, it would have been fantastically expensive, both in retrofitting all highways with the required sensors, and adding thousands of dollars to the price of a new car. It was, however, the genesis of Google's self-driving car concept, and all the autonomous cars that will be taking to the road in the next decade.
A Car Talkin' Convoy
The AHS Program demonstrated amazing technology, and was the beginning of V2V communication. In this program, individual vehicles could join a 'road train', a convoy of cars, each drafting behind each other to reduce wind resistance, drag, and fuel consumption. This is something that was only possible by giving the computer direct control over the steering, gas, and throttle, something the current proposals for a V2V system are not designed for.
In 2007, the National Highway Traffic Safety Administration (NHTSA) published a framework regarding the future of V2V communications, and last year released a readiness report on V2V technology. This technology isn't available yet, and even the NHTSA won't deliver a Notice of Proposed Rulemaking until next year. The system will surely save lives, but it is not as magnificent as self-driving cars would lead you to believe, and surely does not live up to the promise of twenty years ago.
The Wireless Network
According to the NHTSA readiness report, future V2V technologies will communicate over currently unused frequencies in the 5850 to 5925 MHz band. This is just above current bands used for 5GHz WiFi, and will, of course, require new chips, tools, and protocols. Outside of a software defined radio – and a good one at that – you won't be able to listen in on V2V communications. But if you could, what would you be able to see?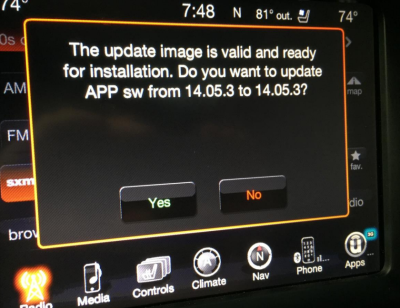 The current recommendations for future V2V protocols are surprisingly geared towards security; there's no doubt local, state, and federal law enforcement would love a system that would constantly broadcast the speed of every vehicle going down the highway, along with a VIN number. This, apparently, will not be a supported feature. As it stands, V2V technology is not a horrible invasion of privacy; there is no way to eliminate any privacy risks, but the proposed system will be at least as secure as systems that are currently installed in cars.
But what about controlling cars by feeding them false information. In 1997, a car participating in the AHS Program would transmit information about its speed and upcoming obstacles to cars behind it. Surely under the proposed V2V system, someone could be smart enough to spoof information to a tailgater, sending them off the road, right?
This is not the case, and it's not for any technical reasons. Auto manufacturers are reluctant to put any actuators on the throttle, brake, and steering mechanism for liability reasons. Car manufacturers don't want people with SDRs to control most of the cars on the road, it seems. The current recommendation is to only display notifications to drivers, allowing them to react to upcoming conditions. V2V is not a car that drives itself, but it could be used by self-driving cars in the future.
V2V is still a long way off from being a reality – at the earliest, it may show up in cars in the next few years. It's even further off from the technology demonstrated back in 1997, but self-driving cars are quickly filling that gap. It may not be game-changing, but V2V communication will drastically decrease the number of deaths on US highways, and help in a vast reduction in the number of accidents.