I recently picked up an Arksen dual power supply. You've seen these before, I'm sure, under a variety of names in places ranging from electronics stores to eBay. They look amazing for the price, and while I didn't expect it to measure up to some of the pro supplies I have, I just wanted something to stick under my desk instead of having to move things to the bench or–worse–drag a heavy power supply over to my desk.
When I was putting together the sonic motion sensor, I found that the HC-SR04 module needed more current than I could draw out of an Arduino Leonardo. I figured this would be a good chance to use the new supply in anger. It seemed to work without too many problems. But there were a few things you might want to know if you have a similar supply or are thinking about getting a similar one.
First Impression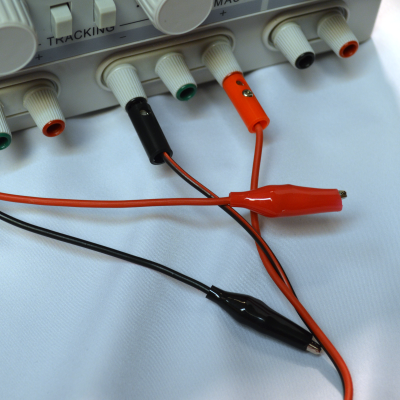 The thing is heavy. Really heavy. That's good, though, since it is supposed to be a pretty hefty supply (5A at 30V maximum). A quick check with a voltmeter showed the voltage on the onboard displays was pretty close (within 100mV). The box came with one set of leads. These were essentially junk. Flimsy banana plugs with screw down connectors and very poorly soldered alligator clips (see right). They were eventually rebuilt and have been acceptable since then, but leads on a 5A supply ought not have 4 ohms of resistance!
Speaking of the leads, the binding posts on the supply have nice little color rings inside that indicate if the post is positive or negative (red or black). The problem is, on some of the posts the rings snap out nearly every time you pull a banana plug out of it. A little super glue will fix it, but it was certainly annoying to have to glue a brand new piece of gear.
The supply has several nice features including a current limiting mode and a mode that slaves one supply to the other in series or parallel. What is missing? There's no sense input which would be nice if you need long cables (or want to use the poorly built cables that come with the thing). There's also no way to read the current on the dedicated 5V supply without an external meter. However, for the price (about $130) you can't complain about that much.
Smoke is Released
The power supply did a fine job of lighting up the HC-SR04 and I started getting the output I expected from the module. Until the next day. Something was wrong with the SONAR module. Replacing it with another got everything working the way it had the next day. Conclusion: dead module.
The SONAR modules are cheap, so some mortality on them isn't that surprising. But just to be safe, I decided I better look at the power supply voltage when the unit is turned on and off. After doing that, I understood what happened to the SONAR module!
With the output capacitors discharged (that is, I touched the leads together), turning the unit on wasn't too bad. At a 12V output setting, you can see on the right, there's a little bit of noise starting up. The positive excursions aren't bad although the nearly 10 volts of negative is a bit worrisome. Lesson: don't hook up the load until after the unit turns on. There are several bursts like this before the voltage makes a nice gradual rise to the set voltage. The effect occurs even with a small load (an LED) connected.
Of course, I wouldn't turn a supply on while it was hooked up to a circuit anyway. You ought to make sure the supply is set right before you hook it up. Of course, the supply remembers its last settings, but a supply with real pots could have changed settings while off. That's probably not true with these supplies, but even if the power was clean starting up, I probably wouldn't turn it on while connected.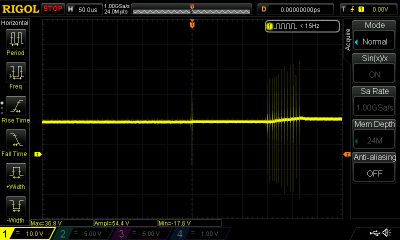 The real story though, is when you watch the supply turn off! You can see the output voltage is around 12V, but look at those spikes (to the left)! There are several bursts of them before the supply shuts down nicely. Lesson: disconnect the load before you turn the unit off!
With or without a load, these death throe spikes occur (and there will be several before the supply shuts down). Not all of them are as extreme, but they exceed the set voltage by quite a bit in each case I've observed. This is a problem because while I might not turn the supply on while connected, I would turn it off. Even if I decide not to turn it off, a little puff of smoke or other danger sign might have me throwing the switch off. I presume if the power goes out you'd see the same spikes on the output.
Inside
You can see some photos I took of the inside of the unit in the gallery below. The transformers are big and heavy. If you want to take one of these apart to adjust the displays or repair, it is good to know the handle's back bolt attaches to the main chassis. So in addition to the eight bolts on the sides (four on the left and four on the right) that back bolt has to come out, also.
The build quality is about what you'd expect from something at this price point. I've heard people say, however, that the build quality of this class of power supply can vary wildly, so maybe this one sample point is not enough to draw a conclusion.
In Conclusion
Speaking of conclusions, would I buy this again? I'm not sure. It is certainly serviceable. I'm not sure how much it will drift over time or if I'd trust it driving a large load unattended. The output spikes on power off are almost deal breakers. If you had an expensive prototype connected to it and the AC power died, that could be a real problem.
It would be possible to modify the power supply, of course. Even a fast reverse diode across the outputs would clamp the negative excursions to some level (you'd have to make sure that you didn't mess up the ganging of the two supplies, though). If you could rig a relay that would turn off faster than the rest of the circuit, it could disconnect the outputs before the turn off spikes occurred. A little turn on delay might help too.
Still, that seems like a lot of work. If you scour the surplus market there are some excellent  major-brand power supplies (like Lambda, Power Designs,  or HP) that are available for about this price, especially if you can reduce your current handling expectations. They'll be highly used, of course, but they will also be well built and designed.
On the other hand, for what I wanted it for–a source of regulated power at my desk–it seems fine. I might smoke a $3 ARM chip or a $2 SONAR sensor when the power goes out, but that's a risk I'm willing to take.