Soldering might look like a tempting and cheap alternative when building or repairing a battery pack, but the heat of the iron could damage the cell, and the resulting connection won't be as good as a weld. Fortunately, though, a decent spot welder isn't that tough to build, as [KaeptnBalu] shows us with his Arduino-controlled battery spot welder.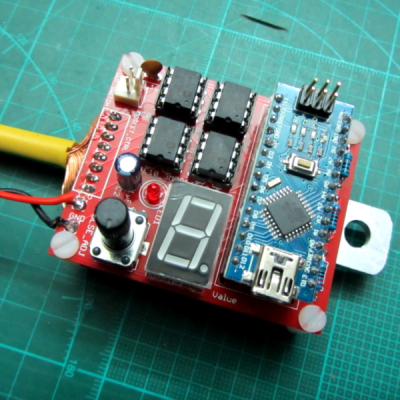 When it comes to delivering the high currents necessary for spot welding, the Arduino Nano is not necessarily the first thing that comes to mind. But the need for a precisely controlled welding pulse makes the microcontroller a natural for this build, as long as the current handling is outsourced. In [KaeptnBalu]'s build, he lets an array of beefy MOSFETs on a separate PCB handle the welding current. The high-current wiring is particularly interesting – heavy gauge stranded wire is split in half, formed into a U, tinned, and each leg gets soldered to the MOSFET board. Welding tips are simply solid copper wire, and the whole thing is powered by a car battery, or maybe two if the job needs extra amps. The video below shows the high-quality welds the rig can produce.
Spot welders are a favorite on Hackaday, and we've seen both simple and complicated builds. This build hits the sweet spot of complexity and functionality, and having one on hand would open up a lot of battery-hacking possibilities.
Thanks [Chris Muncy] for the tip.