Our bodies rely on DNA to function, it's often described as "the secret of life". A computer program that describes how to make a man. However inaccurate these analogies might be, DNA is fundamental to life. In order for organisms to grown and replicate they therefore need to copy their DNA.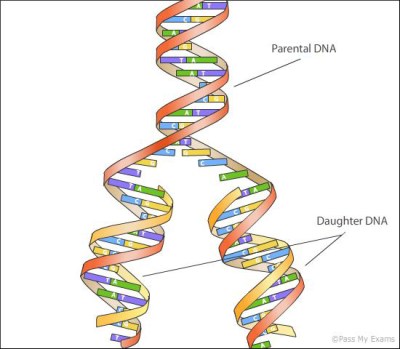 Since the discovery of its structure in 1953, the approximate method used to copy DNA has been obvious. The information in DNA is encoded in 4 nucleotides (which in their short form we call A,T,G, and C). These couple with each other in pairs, forming 2 complimentary strands that mirror each other. This structure naturally lends itself to replication. The two strands can dissociate (under heat we call this melting), and new strands form around each single stranded template.
However, this replication process can't happen all by itself, it requires assistance. And it wasn't until we discovered an enzyme called the DNA polymerase that we understood how this worked. In conjunction with other enzymes, double stranded DNA is unwound into 2 single strands which are replicated by the polymerase.
It's a beautiful process (and I highly recommend Eric Lander's lecture on the subject).
Outside of the body, we often want to amplify DNA for other purposes. That is, take a small amount of DNA and copy it so we have a large number of identical copies for further experimentation. In 1983 Kary Mullis invented a process to accomplish exactly this, for which he won the Nobel Prize, crediting his success to the use of LSD:
The Polymerase Chain Reaction (PCR) copies a single strand of DNA by first attaching primers. These are short fragments of synthetic DNA, designed to be complimentary to the original strand. The polymerase can't work without a small fragment to start it off. With its work begun the polymerase finds it easier to continue to replicate the strand when supplied with free single nucleotides to add to the strand. With this in place the polymerase races along adding 1000s of bases per second to the original strand. In this way, one strand of DNA is made into two.
Thermal Cycling
The key to using this copying method to create large amounts of DNA is called thermal cycling. By heating the DNA melts it (breaks the double stranded DNA into 2 single strands). The heat unfortunately kills most polymerases so we need to reduce the temperature after melting and add some more (there's a trick to avoid this that we'll talk about later). After adding additional polymerase, primers again attach to these new single strands, and the process begins to again exponentially copy the fragments. This heating and cooling process is preformed cyclically, and the number of fragments of DNA increases exponentially. If there was 1 fragment at first there will be 2,4,8,16,32,64,128 fragments as the cycles progress.
I mentioned that the thermal cycling process kills the polymerase. This was the case with the first known polymerase, polymerase I. This is hugely annoying, as without this the process could be trivially automated and cycles could proceed just by cycling the heat. So scientists went searching for polymerases that could survive the high temperatures involved in melting DNA. Logically enough they began with the extremeophiles, creatures that love nature's most extreme environments. The first place they looked was natural hot springs, this resulted in the discovery of a polymerase in a bacteria called Thermus aquaticus, and they named the polymerase Taq. Taq has become a standard polymerase for use in PCR, and has made scientists pretty happy:
But always unsatisfied scientists have searched out even more robust polymerases, extracting them from deep sea hydrothermal vents. Polymereases have been discovered and engineered to work with weird and wonderful artificial bases, and have enabled advances in the incorporation of labelled DNA, forming the basis of modern DNA sequencing (reading) techniques.
The Essential Equipment
With these new polymerases in place, the PCR process becomes a trivial matter of cycling the temperature with the correct reagents in place. Commercial thermal cyclers are a strandard piece of lab equipment. But hackers have developed a number of open source thermal cyclers too, such as the openPCR or even cheaper hacked together alternatives.
While PCR is a great technique for amplifying DNA there are also other useful things you can do with it too. By selecting primers carefully you can amplify a specific region in your sample. This is the basis of a technique called DNA fingerprinting.
In DNA fingerprinting PCR is used to amplify 13 specific regions in your genome.  These regions are composed of repeated sequences that vary in length. Because the lengths of these regions vary from person to person, they form a unique marker.
With a sample which now contains copies of these 13 amplified regions you can now use a process called gel electrophoresis to determine their length and compare it to a known fingerprint. A while back OpenPCR described how this technique might have been used to identify Osama bin Laden.
Not only is the polymerase fundamental to life, through PCR it has become an indispensable tool for molecular biologists. As biohacking has emerged, tools like OpenPCR have opened up these techniques to a wider audience. As the biohacking community grows, hopefully we'll see the polymerase hacked in more surprising and interesting ways.