If we have to make a list of Projects that are insane and awesome at the same time, this would probably be among the top three right up there. For the past few years, [James Newman] has been busy building Megaprocessor – a huge micro-processor made out of transistors and LED's, thousands of 'em. "I started by wanting to learn about transistors. Things got out of hand." And quite appropriately, he's based out of Cambridge – the "City of perspiring dreams". The Why part is pretty simple – because he can. We posted about his build as recently as 10 months back, but he's made a ton of progress since then and an update seemed in order.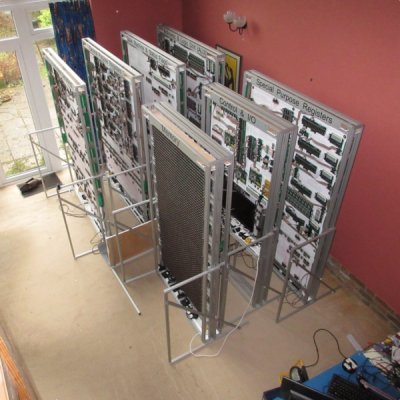 How big is it ? For starters, the 8-bit adder module is about 300mm (a foot) long – and he's using five of them. When fully complete, it will stretch 14m wide and stand 2m tall, filling a 30 sq.m room, consisting of seven individual frames that form the parts of the Megaprocessor.
The original plan was for nine frames but he's managed to squeeze all parts in to seven, building three last year and adding the other four since then. Assembling the individual boards (gates), putting them together to form modules, then fitting it all on to the frames and putting in almost 10kms of cabling is a slow, painstaking job, but he's been on fire last few months. He has managed to test and integrate the racks shown here and even run some code.
The Megaprocessor has a 16-bit architecture, seven registers, 256bytes of RAM and a questionable amount of PROM (depending on his soldering endurance, he says). It sips 500W, most of it going to light up all the LED's. He guesses it weighs about half a ton. The processor uses up 15,300 transistors and 8,500 LED's, while the RAM has 27,000 transistors and 2,048 LED's. That puts it somewhere between the 8086 and the 68000 microprocessors in terms of number of transistors. He recently got around to calculating the money he's spent on this to date, and it is notching up over 40,000 Quid (almost $60,000 USD)!  You can read a lot of other interesting statistics on the Cost and Materials page.
And kudos to his crazy Ninja skills to notch up just a few failed, bad solder joints, out of a total of over 250,000, and one dead transistor from among almost 42,000. A few cable crimping issues were the least of his troubles. The worst part was when he received a wrong batch of 4000 transistors (correct purchase order, correct packing list, but wrong parts bagged). He realized the problem after soldering all of them, setting him back by quite a bit. He didn't bother de-soldering them but instead just built fresh replacement boards. He also built a hardware/software simulator for the Megaprocessor using an FPGA board to help him validate his design. Among the first programs he created were a few games (obviously) – Tetris, Tic-Tac-Toe, Life – for which he needed a suitable input device. So he modded a Venom Arcade stick which usually expects itself to be connected to a PlayStation via USB. He says it was "a very civilized thing to mod".
There is a LOT more interesting stuff to read on his detailed blog posts, so go grab a supply of Coffee, switch off your Phone, and settle in for a few hours diving in to his crazy-awesome build. "This is nuts" said [Clovis Fritzen], who sent in this tip via the BBC News website. Thanks, and we'd agree with his assessment. Check out a couple of videos of the Megaprocessor in action below.