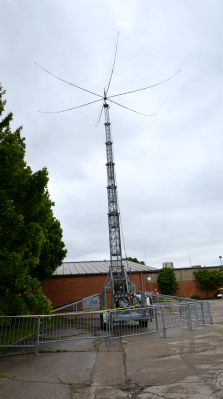 Last weekend was Hamvention, the place you want to be on the third weekend in May. It is the world's largest gathering of amateur radio enthusiasts, and an exceedingly large flea market containing all sorts of electronica.
The booths of Hamvention include a few notable Open Hardware folk, but for the most part, you're looking a few big booths from Yaesu, an entire section dedicated to everything ARRL, and a few pop-ups from the usual suspects. Rigol was there, showing off their test equipment and selling the DS1052E oscilloscope for far more than it's worth. The Rigol Zed is a much better buy, anyway.
As with any gathering of hams, antennas are everywhere. The largest by far was the tower at right. With a little more equipment, this antenna could do a moon bounce. It's a shame the moon was full this weekend, and everyone went to bed early.
Giant antennas and an amateur radio trade show notwithstanding, the biggest draw is the flea market. You're looking at about two football fields worth of parking spaces, filled with cars, tents, and collapsible tables and the strangest electronic devices you've ever seen. What was that like? Read on below.
Components
Almost anything you could ever want can be found at Hamvention. The flea market, like the attendees, hasn't really caught on to the digital age yet, so you won't find bare ATmegas and PICs, or even a few random EPROMs. I couldn't find a single tube of 74-series logic. If it's old school you want, or just some interesting things enclosed in glass, Hamvention is for you.
By far the largest single stall at the flea market was Mendelsons. Mendelsons is a Dayton institution and gigantic store filled to the brim with surplus and liquidation inventory. You can get everything from a traffic signal to pallets of laundry detergent, and of course Mendlesons brought out the electronic goods to Hamvention. Just about everything you could want was there, and properly organized, to boot.

Test Equipment and Random Gear
If you need a scope that's a bit better than what the $400 Rigol can handle, your best bet is Hamvention. Here, everything, from the 1970s Tektronix 465 to the 1980s Tek 2225, to some crazy late-80s, early-90s HP gear. There were a surprising number of spectrum analyzers, and more than enough analog meter to satiate any steampunk aficionado.
The prices? On Friday, they're about what you would expect. On Saturday, the prices start dropping but with more attendees, competition is increased. Hamvention closes at 1PM on Sunday, and these guys don't want to carry all this stuff home. That's where the bargains are, if everything hasn't been snatched up in the previous two days.
Radios and Paraphernalia
You didn't think Hamvention would have a ton of radios, right? Everything was there, from beautiful 1920s receivers in cases made of endangered wood, to fantastic plastic 1940s receivers, to ham gear from the 70s.
The Hamvention Takeaway
Hamvention is the premier amateur radio meetup – the biggest in the world – and the people pulling their pickups into a parking space and unloading their shack are the most knowledgeable people on the planet. They have the best stuff, and they're trying to get rid of it. Need a tube that's not a 12AX7, 6L6, or EL34? It's at Hamvention, probably for a fair price.
Hamvention was great, a perfect example of a great swap meet, and a lot of fun, too. If you're around Dayton, you need to check it out. It's more than worth driving hundreds of miles and getting a vastly overpriced hotel room. All the best stuff is here, and it's all for sale.