We suppose [Dan Beaven] got up one day and said, "I'll make my own resin 3D printer, with resin management and an advanced separation mechanism!" It's a build log that shows just how possible it is to roll your own resin printer.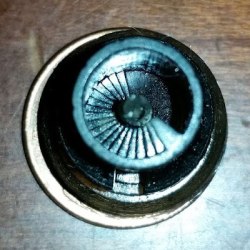 The machine isn't finished yet, but the example prints coming off it are already very impressive. [Dan] stopped the print midway to get this photo of the detail on the stairs in the standard rook torture test.
[Dan] wants a lot of features from his machine that some of the more polished commercial printers are only now offering. One really nice one is the sliding and twist separation instead of tilt. This will allow for cleaner separation between layers during a print, a lower failure rate, and also faster print times.
He also added resin management with a peristaltic pump. This reduces the size of the build vat, and less resin will be exposed to the elements and wasted. It also means that the printer can run unattended. In the resin handling area of the printer he's also added a carbon air filter. This lets him run higher performing resins without gassing him out of house and home with fumes.
We like how [Dan] just runs right ahead and puts the printer together. He even points out kludges on the machine that are holding it together long enough for him to print a more functional part for the 3D printer– on the 3D printer. We look forward to the next installment.