If you have ever worked on a motorcycle on a regular basis with a limited workshop, you'll know the challenge of taking off one or other of the wheels. You'll probably have plenty of tales of bikes balanced precariously on blocks or suspended from the ceiling on a web of cargo straps, and if you are really unlucky you'll have the Dented Tank Of Shame from the whole edifice tumbling down.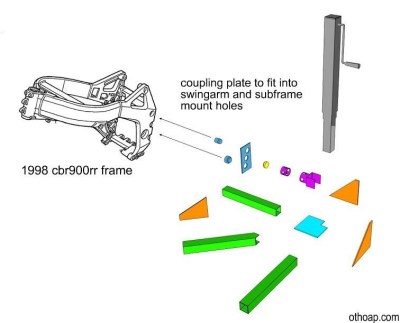 [Mick] has created a simple and elegant solution to raising his bike, a rather tasty unfaired Fireblade, after being unimpressed with commercial stands whose only aim seemed to be to operator ease rather than wheel access. He's made his own stand using a trailer jack. The jack was very reasonably priced at $25, and has a rating of 3500lb which should be plenty for the Honda. He's mounted the jack on a three armed steel foot with plenty of bracing, and created a mounting plate to locate with his bike's frame and hold it securely.
The result is a simple, safe, and practical bike lift for a lot less cash than the commercial alternatives. It lifts [Mick]'s bike up to a comfortable working position without risk of calamity and allows full access to the wheels.
We've covered a lot of motorcycle projects over the years on these pages, but surprisingly this seems to be the first workshop stand. However there are plenty more projects to entertain you, such as this contemporary build of a 1905-era bike, this crazy gas turbine monster, or this rather frightening home-made frame.