[Pabr] is trying to make dry ice the hard way by building a thermoelectric dry ice generator. The project is a well planned round trip through thermodynamics and cryogenics with a hard landing on the icy grounds of trial and error.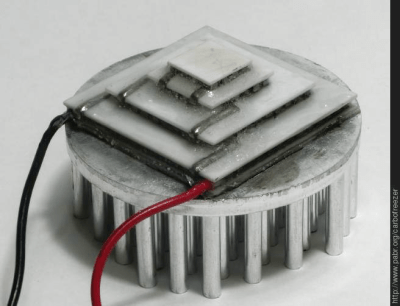 While dry ice can be obtained with simpler methods, for example by venting gaseous CO2 from fire extinguishers and collecting the forming CO2 flakes, [pabr's] method is indeed attractive as a more compact solid-state solution. The setup employs a four stage Peltier element, which uses four Peltier stages to achieve a high temperature differential.
With sufficient cooling on the high-temperature side of the element, it should be well capable of achieving temperatures below -78.5 °C, the sublimation temperature of CO2. So far, [pabr] has built three different setups to expose small amounts of CO2 to the cold of the Peltier element, hoping to observe the formation of little dry ice flakes.
The first setup placed the Peltier element on a massive heatsink, which itself was placed in ice water. A chamber around the element was flooded with CO2 from a bicycle tire inflator. Dry ice was expected to form on the cold tip of the element, but unfortunately, nothing happened. The second attempt was to attach a liquid cooling system with a capable radiator and again, filled with ice water, to the high-temperature side of a Peltier element. A plausible attempt, but again, no success in dry ice production. The third setup moved the experiment to a quasi-vacuum chamber, where CO2 could be streamed onto the Peltier element through a fine needle. The low-pressure environment may have helped with the thermal insulation of the setup, but it also lowers the sublimation temperature of CO2 down to -100 °C. And once again, no CO2 snow formed.
This is not the end of this project, and [pabr] is still working his way toward thermoelectric dry ice production. One big challenge is the acquisition of capable measuring equipment. Thermocouples that are specified for cryogenic temperatures are expensive, and until now measurements have only been taken on the high-temperature side of the cooling element – relying on datasheet values to get an idea of what's happening on the cold side. Do you have a good idea on how to make this work? [Pabr] will appreciate your suggestions, so let us know in the comments!