I heard a "Year in Review" program the other day on NPR with a BBC World Service panel discussion of what's ahead for 2017. One prediction was that UAV delivery of packages would be commonplace this year, and as proof the commentator reported that Amazon had already had a successful test in the UK. But he expressed skepticism that it would ever be possible in the USA, where he said that "the first drone that goes over somebody's property will be shot down and the goods will be taken."
He seemed quite sincere about his comment, but we'll give him the benefit of the doubt that he was only joking to make a point, not actually grotesquely ignorant about the limitations of firearms or being snarky about gun owners in the US. Either way, he brings up a good point: when autonomous parcel delivery is commonplace, who will make sure goods get to the intended recipient?
Based on the Beeb's quip and the tone of discussion in the comments of my earlier post on autonomous deliveries, it seems like the main concern is that without humans in the delivery chain, packages will be subject to pilferage. The thought apparently is that fleets of robo-trucks laden with goods or a drone with packages on board are easier pickings for criminals when there's no human in the loop.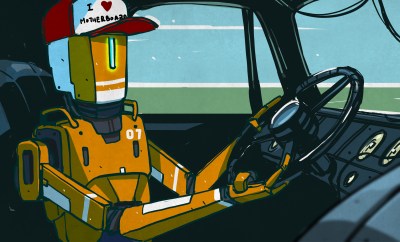 Really? With humans doing the driving, an estimated $30 billion is lost in the US alone to cargo theft every year. Can robots be much worse?
If you dive into the statistics on cargo freight, the first thing you notice is wildly differing tallies for the losses. This appears somewhat due to reporting methodologies — when a driver has a gun stuck in his face, it's a strong-arm robbery; when a dock worker takes an envelope of cash to take a long break while a shipment gets loaded into the wrong truck, that's more of a fraud case. And with multiple billions of dollars in "sales" every year, cargo theft is more of an organized enterprise than an entrepreneurial one – think MS-13, the Triad, and La Cosa Nostra. That results in a strong tendency for shipping companies to under-report cargo theft, perhaps reflecting the peculiar human desire to not end up very dead for squealing. Robots don't care so much about getting kneecapped.
As more and more of the supply chain is automated, fewer humans will be in proximity to all that potential booty, which can only be a good thing. Humans are far more corruptible than robots, which will not be tempted to bolster a low-wage paycheck or settle a score with a manager by nicking a package off the conveyor. True, a robotic package handling system could be programmed to divert a shipment into a suspiciously plain white truck, but that would still be a human crime, at least until we have AI in the supply chain.
But all this theft from the early part of the supply chain is probably less what the BBC commentator or the Hackaday community is concerned with. It's a little too far up the chain, and impacts us only insofar as it drives up prices as manufacturers seek to recoup their losses. For us, what really matters is the final handful of miles between the shipper's depot and our front door. How will autonomous delivery impact that?
Again, I have to think that the robots will do better. And this is coming from someone whose usual UPS guy is a rock star — dude literally sprints from the truck to my door, puts the package down gently, knocks and rings the doorbell, and is one of the friendliest people you'll ever meet. Still, if someone stuck a gun in his face and told him to get out of the truck, he'd go. He's not about to lay down his life to protect a bunch of packages that UPS is insured for anyway. "Here's the keys. Have a nice day!"
It's an extreme example to make a point: humans do little to protect your package during that "out for delivery" phase, and with human fallibility are more likely to increase the risk of theft. A human UPS or FedEx driver might forget to lock the truck while heading up your walk with a package, for example. A robot won't. And if someone did try to hold up or hijack an autonomous delivery vehicle, I'd think it would be far more likely that the robotic driver would follow an effective emergency procedure — lock the doors, call into dispatch, notify law enforcement — than the poor guy or gal that is suddenly thrown into a high-stress situation and can't remember the number for 911.
And what about that very last phase of delivery, where your package is on the doorstep waiting for you to come home from work? Again, I think automated delivery offers a lot of advantages here. We already have smart parcel boxes (there are a few in the market like Pelipod shown below) that work with carbon-based delivery drivers, and having them talk to the delivery vehicle wouldn't be much of a trick.
Bottom line: nothing will stop someone from getting your stuff if they want it and they have an opportunity to take it, or can create an opportunity through the use of force. But it seems clear to me that when fleets of autonomous FedEx trucks are plying our neighborhoods, or Amazon drones darken the sky with same-day delivery of our goodies, we'll probably have less to worry about. It won't stop the thieves from trying, but it will give them fewer openings with the humans out of the loop.