If you walk the halls of audiophilia, you may be aware that there has been a huge amount of work put in to software designed to clean up older audio recordings without compromising the quality of the recording itself. Sometimes the results can be amazing, such as when a stereo image is created from parallel mono recordings made before stereo was even a glint in the eye of a 1930s EMI engineer.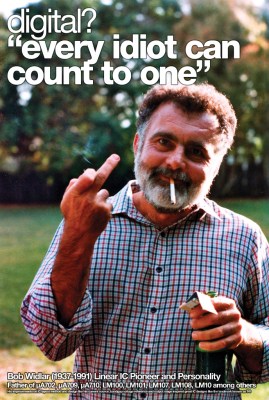 But what if you are at home, without the benefit of a state-of-the-art studio or high-end digital signal processing? How can you then have pop and crackle free sound from your hi-fi when you put on a piece of vinyl? [Paul Wallace] may just have the answer, he's made a smartphone app called Scratchy which listens to the output of a turntable, identifies the track being played, and plays the appropriate MP3 file for a digital experience from vinyl. It uses the algorithm published by Shazam to recognize tunes. The software also has a learn mode during which it can be taught about new records in the collection. The app itself is written using the Xamarin framework and has its source code in his GitHup repository, so it's possible it could be produced for other platforms as well as Android.
Now vinyl purists will be speechless with horror at this wanton desecration of their format while audiophiles will be fuming at the smeary-in-the-midrange MP3s, but we can see its appeal if your vinyl is on the grubby side. It's fair to say though that the stereo here won't be sporting it, you'll tear our analogue signal path from our cold dead hands. Take a look for yourselves, he's put up a video showing it in operation.
If you like the vinyl-via-app experience, of course you don't even need a turntable. If you are mystified by turntables though, perhaps you should read our handy guide to spotting a good one. And if you don't have a record collection, why not laser cut one for yourself?