I dig cars, and I do car stuff. I started fairly late in life, though, and I'm only just starting to get into the whole modification thing. Now, as far as automobiles go, you can pretty much do anything you set your mind to – engine swaps, drivetrain conversions, you name it – it's been done. But such jobs require a high level of fabrication skill, automotive knowledge, and often a fully stocked machine shop to match. Those of us new to the scene tend to start a little bit smaller.
So where does one begin? Well, there's a huge realm of mods that can be done that are generally referred to as "bolt-ons". This centers around the idea that the install process of the modification is as simple as following a basic set of instructions to unbolt the old hardware and bolt in the upgraded parts. Those that have tread this ground before me will be chuckling at this point – so rarely is a bolt-on ever just a bolt-on. As follows, the journey of my Mazda's differential upgrade will bear this out.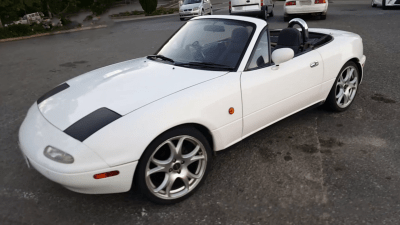 It all started when I bought the car, back in December 2016. I'd just started writing for Hackaday and my humble Daihatsu had, unbeknownst to me, just breathed its last. I'd recently come to the realisation that I wasn't getting any younger, and despite being obsessed with cars, I'd never actually owned a sports car or driven one in anger. It was time to change.
After realising all my favourite JDM metal was outside a budget I was comfortable spending, I settled on an automotive classic – I'd have a Mazda MX-5, known to the Americans as the Miata. It's a Japanese take on the old British sportscar – a convertible roadster with an engine in the front, driving the rear wheels. I wanted the cheapest one I could find, and well – safe to say, I got it.
When I rolled up to buy the thing, it looked okay – some shabby paintwork, sure, but it drove great! It was a 1990 with the smaller 1.6 litre engine, and no performance parts to speak of, but I wanted a project anyway. I happily parted with $3000 and all was well, for about fifteen minutes. You see, on the way home, a terrible, awful noise began to emanate from the car's drivetrain. My heart sank at rather a high rate of knots.
After limping home praying the thing wasn't about to completely explode, I sprinted to the Internet for help.
"Weird deceleration noise"
"Scraping mx-5 deceleration"
"Miata drivetrain shuffling noise"
To my relief, thousands of people had exactly the same problem I did – a strange shuffling or scraping noise on deceleration in gear. To my exasperation, it wasn't clear what the problem was – was it the differential, the gearbox – an exhaust heat shield? Eventually, I took a trip to a local MX-5 expert who indicated it was likely the gearbox or differential, but despite the noise it would probably be okay for another 50,000 km or so until I could get it fixed.
Now slightly more comfortable, I resolved to put up with the noise while I got on with real life. In the mean time, the car rewarded me with more trouble, like overheating – eventually solved by a radiator replacement you can watch in the video below.
I was very much getting my money's worth out of this car, but I wasn't worried. I'd bought this car expecting to upgrade virtually everything on it anyway, so I wasn't too cut up about the worn out parts. After much research, I had decided that I wanted to upgrade to a limited-slip differential (LSD), which allows better torque distribution between the rear wheels for better grip and handling. Plus it helps you do mad skids. I settled on a 4.1 ratio unit from the more recent 1.8 litre cars, sourced from a wrecker a state over.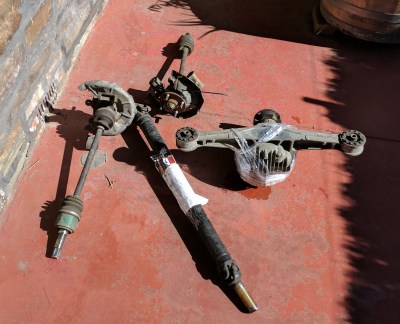 Now, I initially wasn't too worried about the swap. The 1.8 litre LSD in itself isn't a direct swap into a 1.6 litre car. However, if sourced with the tailshaft and halfshafts from a 1.8 litre car as well, everything should just bolt up. Sounds easy, right?
Well, that's where the trouble starts. I've only been doing bigger mechanical jobs like this for a few months, but I was confident after reading a few tutorials that I could complete the job in just a few hours. But the tutorials I read assume a certain level of experience that I quickly learned I didn't have.
First problem – tools! I'd happened across a great trolley jack and sourced some jackstands so I could get under the car. After getting everything set up, I slid under the car and prepared to start unbolting the differential mounts. Armed with a 3/8 inch ratchet I got in a cheap $50 toolkit, I was quickly disappointed. Drivetrain and suspension components are generally held on with very large fasteners, done up to a very high torque. We rounded off the 3/8 socket extension in the first five minutes, and called it a day while we waited for the hardware store to open.
The next day, I was back, armed with a tough new socket set. To say this transformed my experience is a total understatement. Suddenly, with a 300 mm extension and the 1/2 inch drive breaker bar, the nuts holding on the differential were no match for my raw strength. Instantly what felt like an impossible task seemed again to be a quick, one-day job. Until the next pitfall.
Things on cars get stuck a lot. Put a big bolt through a few parts, wang it up to 150 foot-pounds, and blast it with dirt and water for 27 years. Remove the bolt, and you might find it's all still stuck together. As you're trying to free things up, the initial instinct might be to reach for a hammer. But it's not so easy –  sometimes it's not obvious if you're actually hitting the right thing. Other times, you're on the ball, smack the part free – only to realise you've just put your screwdriver through a brake line. It often takes finesse, a cup of tea, and a quick question to the relevant forum or Facebook group to identify where one should place one's hammer, and how hard one should swing it. On this job, there was confusion about a bushing that was holding the old differential on to the power plant frame – thankfully, the fine people of the Mazda MX-5 of Australia group confirmed I could bash away with impunity, and I did so.
Next problem was bolts. Despite ordering "everything" I needed to fit the diff to a 1.6 litre car, the wrecker had only supplied two nuts to go with the four bolts that attach the tailshaft to the differential. I suspect they might have been lost in transit, as everything was shipped loose. I wasn't able to follow my initial plan of reusing the old nuts either – they were a smaller size. In the end, a last minute dash to the parts store netted me some slightly larger nuts that fit. It might sound strange to say that bolts are a problem, but you might be surprised. Automotive manufacturers generally use a higher grade of bolts than is typically available at the local hardware store, and in a much wider variety of thread pitches. Replacements are accessible at a specialty fastener distributor, but these all close at 5:00 PM and don't open on weekends – cold comfort to the shadetree mechanic with a full-time job. I was thankfully saved by the auto parts store which did have the correct pitch nuts I needed on a Saturday, albeit at $7 for a pack of three. It was a better option than driving out to the wrecking yard to yank a single bolt off the nearest Mazda, though. With that solved, I felt confident I could finish the car that night.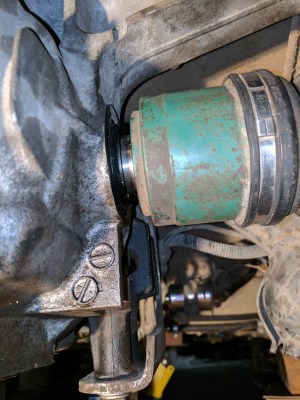 I moved on to the next job – fitting the new halfshafts to the new differential. To my surprise, they didn't just slide in. A quick search found that they required a heavy pounding with a stout hammer, so, after much wrestling with the shafts, which still had the hubs attached, I got the left one in. Buoyed by my new success, I was excited, and started immediately on the right, but to no avail. Repeated blows did nothing to force it in to its full depth. I once again begged the forums for insight, who all reported that it was difficult, but more hammering should do the job. At this point though, fatigue was setting in and I decided to finish up with a fresh mind and body in a few days.
Now armed with everything I needed, on the Monday, the work went quickly. A quick strike from the hammer seated the previously immovable half shaft. I didn't stop to ask why. The differential was bolted up and filled with fluid, the powerplant frame aligned, and the transmission topped up with oil. I was excited – the car was close! All we had to do was refit the rear brakes and take it for a spin. The right side went together in a snap – I was well acquainted with the brakes by this point, having done an upgrade to the later model brakes when I found my car's rear calipers were both non-functional.
It was dark by this point as we were working on the last wheel. For some reason the brakes just weren't going together, and we kept fumbling around as we tried to take shortcuts, not wanting to disassemble the caliper any more than necessary to get it back together. Eventually, we realised the problem.
Yes, that brakepad is severely bent. I can only presume that it was due to incorrect fitment during the upgrade, but nonetheless. Not wanting to stop, we found a spare pad with the parts left over from the brake upgrade, and got halfway through putting everything back together until we realised the spare pad was the wrong type and it was all over. My three-hour differential upgrade was now going to bleed into a fourth day.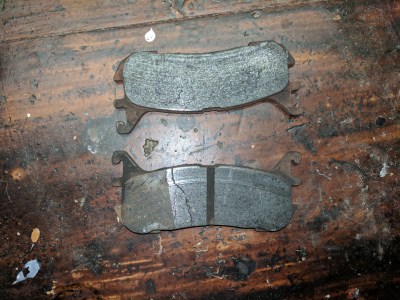 By this point it was Wednesday, and armed with a new set of rear pads, I once again disassembled both rear brake assemblies and fitted everything up. I lazily adjusted the handbrake as, in several hours of trying, I've never been able to get it right despite following the proper instructions. I wasn't surprised or that bothered when the handbrake largely failed to work.  With the wheels now back on, the car was gently lowered down off its stands, ready to drive.
To say I was nervous was an understatement. While it may be a "bolt-on" job, drivetrain components are more than capable of doing a lot of damage in the event something goes wrong. Reversing out of the driveway went well though, and there were no immediate catastrophic sounds as I drove the car to a friend's extended driveway for testing. With the engine dialled up to 5,000 rpm, I dropped the clutch and to my delight, the car spun both rear wheels as expected – without flinging rotating metal components all over the place. The drive home further confirmed my success, with the awful scraping sounds now absent from my drivetrain.
I'm pretty darn pleased with the job, and can't wait to test the car further at an upcoming skidpan day at the nearest racetrack. There's still a long way to go, and I'm sure this won't be the last part of the MX-5 to suddenly and unceremoniously fail on me. At the end of the day though, I managed to suffer through a "simple 3-hour bolt-on job", even if it took me four days – and I'm all the more experienced for it.