In The Martian we saw what kind of hacking was needed to stay alive for a relatively short while on Mars, but what if you were trying to live there permanently? Mars' hostile environment would affect your house, your transportation, even how you communicate. So here's a fun thought experiment about how you'd live on Mars as part of a larger community.
Not Your Normal House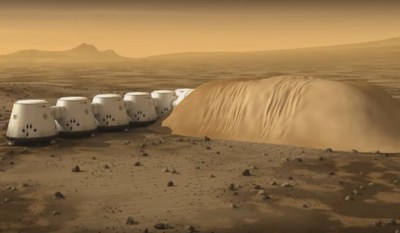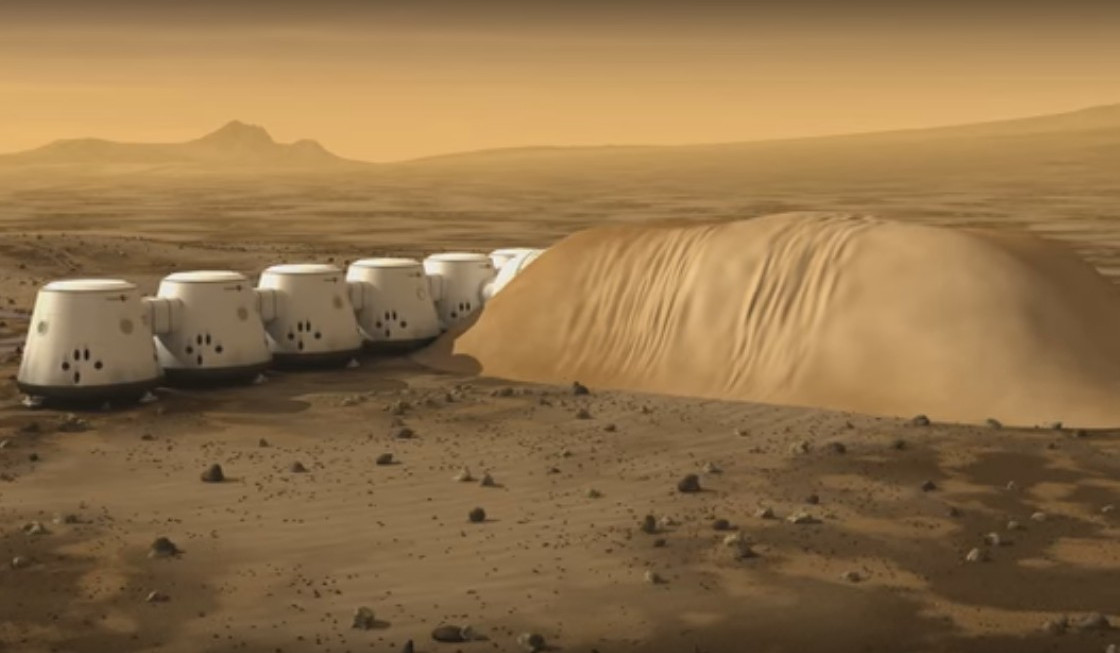 Radiation on Mars comes from solar particle events (SPE) and galactic cosmic radiation (GCR). Mars One, the organization planning one-way trips to Mars talks about covering their habitats in several meters of regolith, a fancy word for the miscellaneous rocky material covering the bedrock. Five meters provides the same protection as the Earth's atmosphere — around 1,000 g/cm2 of shielding. A paper from the NASA Langley Research Center says that the largest reduction comes from the top 15 to 20 cm of regolith. And so our Mars house will have an underlying structure but the radiation protection will come from somewhere between 20 cm to a few meters of regolith. Effectively, people will be living underground.
On Earth, producing water and air for your house is not something you think of doing, let alone disposing of exhaled CO2. But Mars houses will need systems for this and more.
Finding Water
Water is a mix of hydrogen and oxygen and is abundant in the form of ice mixed into the top meter of the Martian regolith. Around the equator and up to 60° latitude it varies in concentration from 2-18% but further north and south it's in even higher concentrations, reaching 100% at the north pole.
As in Earth cities, water will be piped or carried in from elsewhere, or it can be produced by the house environmental system from deliveries of regolith from the nearest quarry. In any case, it's produced by heating regolith to turn the ice to vapor and then condensing the vapor to liquid water. Mars One hired Paragon Space Development Corporation, specialists in space environmental systems, to come up with a design for their habitats. Their design includes a hopper for putting regolith into as the first step in producing water.
Trifles Like Air, Toxins, and Food
Mars air is 95% carbon dioxide (CO2), 1.93% argon, 1.89% nitrogen and only 0.16% oxygen. Our Earth atmosphere, however, contains 78.09% nitrogen, 20.95% oxygen, 0.93% argon, 0.04% CO2, and trace amounts of other gases. In The Martian, fresh oxygen for breathing was taken from CO2 in the Mars air. In Paragon's environmental system, oxygen is also taken from CO2 in the Mars air but also takes nitrogen, argon and trace amounts of CO2 for a more complete mix. In addition, Paragon's system also takes some oxygen from the water production system using electrolysis.
Interestingly, one of the less obvious issues is keeping toxic elements present in the dust from entering the house. Mars dust is electrically charged and sticks to everything, much like styrofoam packaging. If you've lived in environments where you had to clean your boots before entering the house, imagine having to clean your whole space suit, or you could just leave it in the airlock.
Growing food on Mars is possible — we know because we've reported on tests done with analogs of Mars soil. Some food will be grown in the house, for the side-benefit that plants absorb CO2 and exhale oxygen. But for variety, quantity and for saving time, much of it will come from separate greenhouses.
Of course, through all this we must keep in mind that all waste, used water, and exhaled air is recycled and reused in an effort to get as closed-loop as possible. That means the requirements for raw inputs would be less than they would be on Earth.
Electrical Ground On Mars
Mars doesn't have a local electrical ground. The Earth does because the ground is electrically conductive and accepts charge from any charged object that comes in contact with it. Due to the large mass of a local Earth ground, it accepts this charge without becoming very charged itself. The moisture in the Earth ground aids its conductivity by enabling ions to move around. Mars' ground, however, is dry and while it contains ice, that ice further decreases conductivity.
Mars is also dusty. That dust blowing around can charge space suits, vehicles, and parts of houses not covered in regolith. This is due to the triboelectric effect and is the same thing that happens when you walk across a carpet (charging your body) and then get a shock when you touch a doorknob. In the case of Mars, it's the interaction between the dust and other objects that does the charging.
Since there's no local electrical ground to discharge objects, they can build up different charge amounts. After walking around outside, when a person arrives at an airlock and presses a button to open it, a spark can pass between them, damaging sensitive electronics.
The solution is to design systems keeping in mind that there is no natural local ground. To get a local ground, while not a complete solution, electrically connecting houses and other structures via cables results in a giant capacitor, storing charge. Sharp metal points and normal building irregularities would help to discharge that built-up charge back to the atmosphere like a reverse lightning rod.
Wireless Communication Issues
As pointed out above, the housing is basically underground. This causes a problem when trying to transmit high frequency signals wirelessly. Of course one solution is to use cables, either copper or fiber optic. But if we want to keep things simple and flexible then the houses would simply have antennas extending outside the regolith roofs.
If houses are truly underground then cues can be taken from the mining industry's through-the-earth mining communication systems. This transmits signals at ultra-low frequencies of 300-3000 Hz and can transmit through hundreds of meters of rock. The transmitter uses a large loop antenna on, or just under, the surface that transmits through the ground to the dwellings below.
Cavers have also done this for distances of a few hundred meters with more portable units with multiple turns for the loops. This is not normal broadcasting of electromagnetic waves but rather magnetic induction through rock, the transmitter's loop creating a magnetic field which induces a matching one in the receiver's loop.
But given the low bandwidth available with such low frequencies, we'll either use exterior antennas, or cables for most communication.
Appliances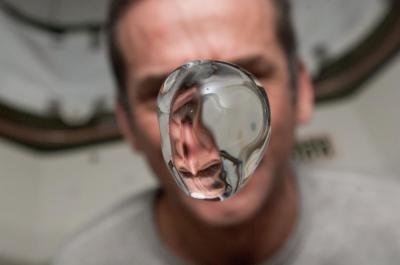 The biggest impact on appliances used within the habitat compared to on Earth is Mars' gravity, three-eighths that of Earth's. We've certainly plenty of demonstrations of micro-gravity from the ISS. Mostly this would affect things that deal with fluids. For example, the blades in a food blender are at the bottom but would that work as well if the downward pull is half as strong?
In our article about Earth grounding for houses on the electrical grid, we showed various places that the ground played a part in our electrical system.
Appliances with metal cases often have an equipment grounding wire connecting that metal case to Earth ground. This is to discharge any charge built up on the appliance's case due to things like nearby lightning strikes. But while lightning does occur on Mars in dust storms, it isn't the form that would send charge through the ground and into appliances. Instead it's more in the form of a glow within the dust clouds and doesn't involve the ground.
That's not to say that those appliances won't need a ground prong on their plugs. The part of the circuit that trips the breaker if the live wire shorts to the metal case, doesn't involve ground and is still required. Again, see our grounding article if you're puzzled why that is.
And remember the days when people used to repair broken appliances rather than just buy new ones? That'll be the norm on Mars, as will making your own things. Hackers will do well on Mars.
Generating Electricity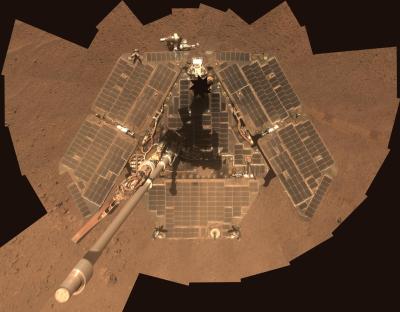 Solar panels have been used by most of NASA's Mars rovers and have kept them powered for long periods of time. As such, solar panels can be used for power for our houses. Dust can cover these solar panels, but unlike with the rovers, people will be present to clean them. Dust storms can be an issue though. The Spirit and Opportunity rovers landed in 2004 and encountered only one big dust storm in 2007. That had them going into survival mode for a few weeks. So just as with off-grid systems on Earth, a backup power system is needed.
Geothermal energy (areothermal energy on Mars) is one possible source but it's unknown how deep you'd have to drill, 1 kilometer or 10 kilometers, before reaching hot enough temperatures. The deeper you drill, the more energy you need to do it. It will also require a large amount of steel piping, which can be made from the iron oxide which makes up the bulk of Mars regolith. Compressed and liquified CO2 can be used as the heat transfer fluid.
Nuclear power is also an option, using radioisotope thermoelectric generators (RTG) for example. However, replacement radioactive materials will be needed in the long-term. If necessary, this can be a product bought from Earth suppliers.
Going Outside
Venturing outside on Mars is problematic. The surface air pressure is only 0.00628 atm, with Earth at sea level being 1 atm, or 1 standard atmosphere.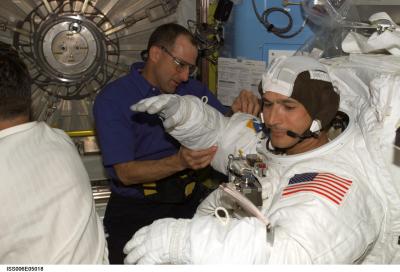 People would have to wear space suits, and we've already talked about how the suits would collect dust and bring it indoors. It also takes a lot of time to suit-up and unsuit. In the movie Gravity, Sandra Bullock unsuited in under a minute but that rapid speed was to keep the plot going. In reality it takes astronauts on the ISS a lot longer as they first have to don a skin-tight undergarment threaded with tubes for thermal control, followed by bending into the semi-rigid parts that make up the suit proper. All this time, everything is being checked. The process could be sped up of course, but there's still more involved than tying your shoes and throwing on a jacket.
So how about instead slipping into a vehicle parked in a garage-sized airlock, depressurizing the garage, and driving out? There are a few problems here. One is the time required to cycle such a large volume. Another is the loss of air in cycling such a large airlock. Yet another is the huge opening required that invites abundant dust. It's probably just as fast to suit-up and slip into an open vehicle waiting outside. Since it's always outside, you wouldn't need to clean the dust off it every trip.
Another option is to have tunnels between houses. That's a large volume to keep filled with breathable air and kept warm so you'd probably want to do it on a small scale.
To avoid the above mentioned issues, for many jobs you could send a robot instead, one that remains outside and needs only periodic maintenance. Robots could keep the solar panels clean, carry supplies from place to place, and do routine maintenance. They could have some level of autonomy but still be teleoperated as needed.
Home Sweet Home
And so that's our thought experiment about living on Mars. Does it make you want to pull up stakes and move? What would you do differently? What issues have we missed? Let us know in the comments below.