Through-hole assembly means bending leads on components and putting the leads through holes in the circuit board, then soldering them in place, and trimming the wires. That took up too much space and assembly time and labor, so the next step was surface mount, in which components are placed on top of the circuit board and then solder paste melts and solders the parts together. This made assembly much faster and cheaper and smaller.
Now we have embedded components, where in order to save even more, the components are embedded inside the circuit board itself. While this is not yet a technology that is available (or probably even desirable) for the Hackaday community, reading about it made my "holy cow!" hairs tingle, so here's more on a new technology that has recently reached an availability level that more and more companies are finding acceptable, and a bit on some usable design techniques for saving space and components.
Copper Components
First, let's talk about components that are made out of the copper itself, because this is accessible and widely used. With the right math and layout, it's possible to create resistors, capacitors, fuses, and antennas out of copper. This kind of stuff is done all the time.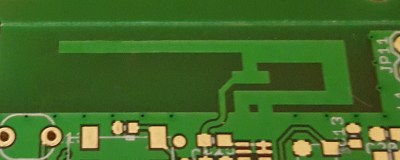 The heated build platform of your 3D printer is likely just an FR4 PCB with a single spiral trace. Because the copper has some resistance, and that resistance is a function of the current and width of the trace, some careful calculation will give you a board that heats up to the right temperature without damaging the board.
You can do impedance matching with traces, or make them wind around in a single skinny line to make a single low value resistor (keeping in mind that tolerance is terrible because of copper thickness variance). Or you can place two traces right next to each other to create a small capacitor. This costs you board space, but saves you from having to place a component. You can also create a fuse by pinching a current-carrying trace in a single point so that with enough current it heats up and blows the trace. Granted, you can't replace this fuse, but it could be considered a last line of defense to protect the rest of the electronics if all else fails.
There are also trace antennas, found inside nearly every small RF gadget. The Inverted F antenna is particularly suited for 2.4 GHz radios, and saves a lot of money and physical space.
Embedded Components
What's really exciting is that components are now being embedded inside circuit boards. There are lots of reasons and advantages:
Saves physical space, both vertically and on the PCB plane
Easier routing and shorter traces
Less parasitic capacitance
Better EMI shielding (an oscillator or crystal can be between layers, surrounded on top and bottom by copper pours)
Heat management
Reliability
Difficult to reverse engineer
There's cost and additional process, though, and requires a lot of coordination with the PCB fabricators and assembly houses. The greatest reason to do this is size reduction, so unless you are building a "world's smallest" or doing large volume runs of smartphones, this is not something you will want to do.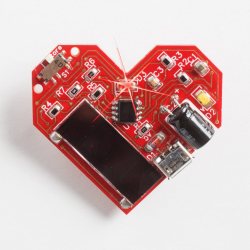 Chip ON board is old news; we've seen the blobs of black epoxy that have a silicon wafer bonded to pads on a PCB. We've also been doing something similar to chip in board for decades by cutting holes in the PCB and mounting components into those holes to save space, like capacitors that fit inside sideways. Embedded components take this to the next level.
How Embedded Components are Done
Now it is possible to create a cavity in the PCB and put the wafer or component in that cavity. You'll see this done primarily with four-or-more layer boards. The typical process of making a circuit board involves making two layer boards, then bonding them together. If you have blind or buried vias, it's necessary to have a drill stage before bonding those two boards together, which is why some PCB fabs don't support it, and why prices increase with the number of layers.
With the embedded components process, the manufacturer cuts out the cavities necessary for the component in the appropriate layers (with a laser because the tolerance is so tight), then before the layer bonding process inserts the components inside, and closes it up. This works great for passives. 01005 components are like specs of dust, and in some cases it's possible to sandwich the component between two layers without cutting a cavity, accepting an almost imperceptible bulge around the component.
To get the electrical conductivity between the component and the PCB, this can be done with bond wires for chips, or by soldering using normal (but much more precise) processes. There is some risk during later stages because this PCB will likely go through the reflow oven two more times for components on the top and bottom, possibly damaging the embedded component or breaking the internal connection. If the embedded component is connected by vias, the solder can wick into the cavity and cause shorts as well. In other words, it's really hard to do, and requires tighter tolerances than most tools are capable of doing.
Considerations
This process demands precise equipment and adds a lot of steps to the PCB manufacturing process, and is therefore expensive. We already try to avoid blind and buried vias for exactly this reason, and embedded components are a similar problem with additional complexities. Expect that the price of your board will increase significantly, and that most factories aren't going to be able to do it, and probably won't want to invest in the equipment or expertise necessary to pull it off. There's just not enough demand for it. You'll also need to have EDA software capable of embedded component design like Altium, but none of the free ones have the feature yet.
More importantly, this may be a niche that will go away with newer technology, as custom ASICs are easier and easier to spin up. If you are spending lots of hours and dollars to make a smaller PCB, you may be able to accomplish the goal with a custom IC instead and make it even smaller with no embedded components at all. If only we could eliminate the need for a billion decoupling caps underneath a large BGA.