A recent convert to the ways of the laser cutter, redditor [i-made-a-thing] was in want of a project and — stumbling on some waterways maps on Etsy — launched into fabricating an illuminated map of all the waterways in the United States.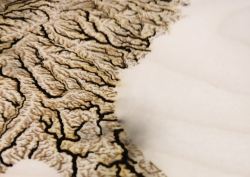 The map itself was laser-cut out of 1/4 inch plywood at his local makerspace. Thing is, smaller rivers and tributaries were too narrow at the scale [i-made-a-thing] wanted, so he ended up spending several hours in Photoshop preparing the image so larger rivers would be laser-cut — and not break off– while the rest would be etched onto the surface. After testing the process by making a few coasters, he was ready to get started on the real deal.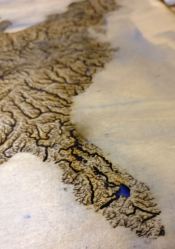 Laser-cutting out the rivers on the rear minimized burn marks on the finished front, but did take some time to ensure the two sides would line up perfectly. To prevent the epoxy from bonding to whatever he was working on, [i-made-a-thing] used a melamine cutting board with a coat of Vaseline to allow for easy separation. Pouring the epoxy in two passes and using a lighter to pop any air bubbles, he ended up having to sand off the excess from the map's surface, vowing to tape-off any sections not meant to be coated in the future.
[i-made-a-thing] framed the map in stained plywood, gluing the two together before applying a final clear coat of epoxy to even out the finished look. Sticking in the LED strips revealed light bleeding through some parts of the map, which thick cardstock put a stop to. The finished product — bordered by light — is a beauty to behold.
As far as maps go, we've featured some laser cut jems before, as well as a Marauder's Map for Manhattan.
[Via /r/DIY]